The is considered to be the rock star of today's business world, and we're prone to set high expectations for entrepreneurial enterprises:
At times of economic uncertainty like we're experiencing today, we hope that startups and small businesses will jumpstart our economy.
Many of us who work for large companies have secret entrepreneurial aspirations that we are tempted to transform into actual enterprises.
Some of us envision ourselves changing the world with our novel ideas, combining social impact and commerce, like Toms Shoes did by combining a shoe purchase with a social cause.
A great reality check for all of these romantic notions related to entrepreneurism came on Sunday November 13th when CNN aired a special report: The New Promised Land—Silicon Valley, an inside view of what it really takes to prepare a pitch for venture funding. The program combined the dynamics of reality TV with the in-depth coverage of news reporting. Hajj Flemings–a key player in last week's Detroit Brand Camp Afterglow/Find Your Nextevent–was one of eight featured aspiring tech leaders selected to move to Silicon Valley to immerse themselves in what it takes to bring a technology idea from idea to funding. When they arrived, they presented their initial pitches to a panel of judges, and received punch lists for improvement. The goal was to polish the ideas and present working demos to a group of venture capital and technology leaders nine weeks later, with the hopes of actually landing venture funding for at least one of the eight ideas.
Unlike programs like The Voice or Dancing With the Stars where the focus is on the final performance, The New Promised Land was all about the process—the gritty, unromantic truth about entrepreneurship.
We watched as eight individuals with dreams of becoming the next technology giant cobbled together initial business visions, and worked 18-20 hour days for weeks to prepare for their shot at funding. The behind-the-scenes look at what was it really took to design, program and ultimately pitch ideas for the next technology startup reminded the viewers that entrepreneurship is much more about sweat than glory. Watching the entire process revealed the truth behind succeeding as a tech entrepreneur–many of us have ideas for creating the next great technology company, but the secret to success is less about the great initial idea and more about the preparation, execution, talent, problem-solving, customer knowledge, and fortitude.
After nine weeks of 20-hour days, there was no silver bullet. No single individual "won" a magical key to success. But what all of the aspiring tech leaders learned, and what the audience watching the process appreciated after watching them pour their hearts and souls into their programming, their research, and their marketing plans, was that entrepreneurism is the art and science of true grit. And I, for one, experienced renewed respect for everyone who takes a shot at going all the way with an original vision for the next great tech idea.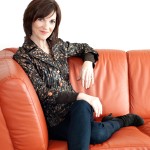 Andrea Kates is the founder of the Business Genome® project and author of the visionary business innovation book, Find Your Next (McGraw-Hill, November 2011).