by Green Ways and Words:  Figuring out the financial benefits of rooftop solar can be a difficult exercise in engineering, accounting, finance and most of all, patience.To make matters worse, there aren't clear resources to turn to for unbiased, expert advice. SunMath is trying to change that.
To help calculate the Payback and Return on Investment of "going solar", SunMath has released a new web-based Solar Calculator. Whether you are curious about the financial implications of purchasing solar, or weighing the merits of a solar proposal in hand, the SunMath Solar Calculator can help you figure out whether "going solar" makes financial sense for you and your family.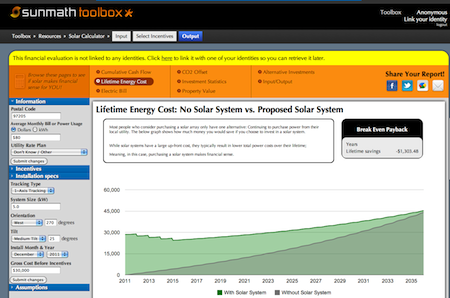 After submitting your zip code and average energy usage, the Solar Calculator gives you a customized investment analysis and will even show you your new monthly energy bills. While the price of solar has dropped by almost 60% in the last five years, solar incentives are still offered by the federal government, state and local municipalities and utilities. SunMath's growing database of incentives will help you figure out what financial help might be available to homeowners in your area.
Dan from Austin, TX says of the tool, "SunMath helped me figure out if installing solar on my house made sense. I'd seen the information from an installer and from other online resources, but having a 3rd party help me with the numbers made all the difference. Thanks!"
You can check out SunMath's Solar Calculator free of charge here!
SunMath is a leading developer of innovative, web-based tools for the solar community. The company responds to industry feedback to build tools for consumers interested in going solar as well as for solar professionals who install and provide materials for solar. By focusing on building software that is easy to use, SunMath converts data into actionable information, resulting in smarter investments and financial decisions.
The company's other tools include:
Solar Calculator – an advanced solar calculator for proposed installations in the United States. What sets SunMath's solar calculator apart is the fact that SunMath never takes finder's fees. This allows us to stay 100% unbiased.
Installation Tracker – a solar installation portfolio tracking tool that allows solar installers to monitor all of their solar installation in one place, regardless of which monitoring system is installed.
Solar Directory – a free, integrated directory that allows solar installers to showcase their solar installations to consumers who want to find solar installers anywhere in the country.
Solar Blog – A one-stop place to find the newest news in solar and educational editorials to help solar consumers and solar installers.