by Timothy Stenovec:  UPDATE: The Dragon capsule was successfully captured at 8:56 a.m. EDT by NASA astronaut Don Pettit, using the International Space Station's (ISS) robotic arm. SpaceX is the first private company to launch and dock a spacecraft at the ISS.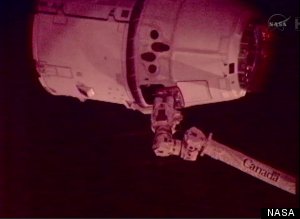 The Dragon capsule, the unmanned spacecraft that was launched on SpaceX's Dragon 9 rocket early Tuesday morning, will attempt to dock with the International Space Station on Friday.
If successful, it will be the first private spacecraft to fly to the ISS.
Since entering orbit on Tuesday, the capsule has been examined to make sure it is fit to berth with the space station, undergoing tests on its thrusters and Absolute Global Positioning System, among others.
Early Thursday morning, the spacecraft successfully flew 1.6 miles below the space station.
Dragon began its approach to the space station around 3 a.m. EDT on Friday,according to NASA. Running slightly behind course, astronauts aboard the ISS will use the space station's robotic arm to grapple Dragon after 8 a.m. EDT, and the spacecraft will attach to the station.
The astronauts are expected to open Dragon's hatch — a process that takes two hours — early Saturday morning.
The Dragon spacecraft is carrying about 1,000 pounds of non-essential rations, including clothing, food, computer equipment and student experiments.
With the retirement of the space shuttle last summer, the United States no longer has a means of transporting astronauts or supplies to space, and currently relies on Russia and its Soyuz rocket and spacecraft to make the trips.
NASA awarded $381 million to SpaceX as part of a 2006 agreement, according to press materials from the company. SpaceX has spent $1 billion over the last decade, the Associated Press reports.
NASA has also awarded $266 million to Orbital Sciences Corp., a Virginia-based space technology company, which has a goal of launching a rocket and spacecraft by the end of the year.