by Dave Klingler:  SpaceX will carry passengers to Bigelow's inflatable habitats.SpaceX and Bigelow Aerospace have announced a new marketing alliance for SpaceX transportation to Bigelow private space stations. SpaceX will take customers, both private and governmental, to orbit using its Dragon reusable space capsule; Bigelow will host them using its BA330 inflatable space habitats, which will presumably be launched on a larger rocket.  No announcement was made concerning who would carry the stations themselves to orbit.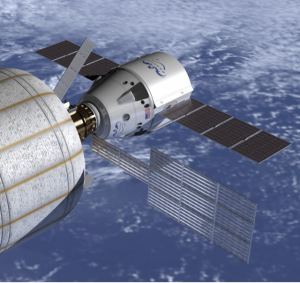 For several years now, Elon Musk of SpaceX and Robert Bigelow, a construction entrepreneur who owns Budget Suites of America, have discussed forming a partnership to transport Bigelow customers. Bigelow originally licensed the TransHab technology from NASA after it was dropped from Space Station plans due to funding shortages, and founded his eponymous company to develop the inflatable habitats. It made rapid progress, and in 2006 and 2007, launched Genesis proof-of-concept modules on Russian Dnepr rockets (which are converted surplus ICBMs). The two 11.5 cubic meter modules were a success, and large for their cost. Inflatable habitats are much lighter and can be every bit as well-shielded as their smaller aluminum predecessors.
Since that time, Bigelow Aerospace has developed commercial space station designs while waiting for launch technology to catch up. They built a 181,000 sq. ft. manufacturing plant in North Las Vegas, Nevada, and they also built Boeing's CST-100 test capsule under NASA's Commercial Crew program.
Bigelow has reserved a Falcon 9 for launch in 2014, but no one is quite sure what it will be for. It now looks as if it might launch a Dragon spacecraft, but that's still speculation.
Regardless of how the big modules make it into space (BA-330 is 20,000 kg and 330 cubic meters), Falcon 9 and Dragon should be low-cost passenger carriers. Bigelow and SpaceX state in the press release that they plan to market the new services in Japan first, right after the SpaceX attempt to berth Dragon at the International Space Station on May 19. Until that time, everyone at SpaceX is probably too occupied getting ready for the launch to pay attention to anything else.
From Japan, the two companies may move on to Dubai and the United Arab Emirates, where Bigelow signed a memorandum of understanding in 2011 to work on microgravity research and development. Bigelow's large, private spacecraft give many countries the ability to do space station research at a small fraction of the cost that was required to build the International Space Station. Bigelow has spoken of leasing them as well, dropping the price for space station access even further.
When asked whether SpaceX had announced the agreement with Bigelow Aerospace in response toyesterday's news from ATK, SpaceX spokeswoman Kirstin Brost Grantham replied that the deal had been planned for some time and was unrelated to other news. Some industry speculation is that the alliance will help speed the process of getting Dragon approved for human use. It gives SpaceX a new private market for a human-rated spacecraft and may allow the company to bring a manned Dragon online sooner.
ATK may have applied some pressure there, as it stated on Wednesday that it would be able to begin carrying astronauts to the Space Station in 2015, two years sooner than has been predicted for their competition, including SpaceX.  ATK has capitalized on government-developed and government-sponsored pieces for its new entry into the commercial market.