In the years that I've been working with people to help them understand their soul's guidance in their lives, the most frequent question that arises is: How can I find a loving relationship?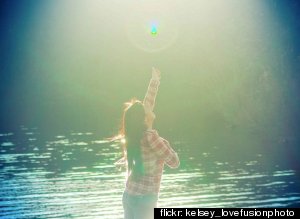 Then, after that, the next question is usually: How can I keep my relationship vital and healthy?
There is never a standard answer to these questions, as each person has a path set before them — their soul's curriculum, so to speak. Traveling that path with another person in a supportive, loving relationship requires a conscious dedication to process and change.
One couple I work with has been together for more than 20 years. Both of them had been in turbulent relationships prior to meeting and so rather than make promises that seemed unrealistic they agreed to awake every day and "choose" the relationship. They agreed that if that changed, they would bring this change respectfully to discussion rather than acting on impulse. Throughout the relationship, they maintained a practice of meditating together. They practiced yoga and had countless small but meaningful rituals of thanks and blessing.
The day arrived when one of the partners felt a need to see himself reflected in new ways — outside of the relationship. The passage was not easy or comfortable, but it was truthful. Both agreed that their greatest responsibility was to their own personal growth, but there was a deep bond that kept them in dialogue throughout what was nearly a year's separation.
Ultimately, awareness dawned that they were still choosing the relationship because they were still growing together.
Another couple with whom I've worked periodically through the years has a brilliant practice that has not only worked to help them work through difficult passages but has also helped to keep their relationship with their children open and intimate all the way into adulthood. It's a simple, timeless technique called "council," which has its roots in ancient tribal cultures but has been formally developed at the Ojai Foundation (http://www.ojaifoundation.org/Council).
Weekly, they come together as a couple, or the whole family, and they invoke "council." They select an item to be used as a "talking stick," an actual stick or a feather, for example, to designate the speaker. The first round is a simple sharing of feelings and emotions in the present moment. While one person is speaking no one else speaks. The second round then allows the couple or group to deepen into their feelings and allows for one of the most vital things in a relationship — clearing the air. They go as many rounds as are needed.
This technique is incredibly powerful in its ability to revitalize and strengthen relationships through even the thorniest of challenges. There was a moment when this couple — who had been through devastating medical challenges, financial reversals, career disappointments and extended family travails — decided that they needed to separate. But rather than the classic slash and burn separation, they engaged in "council" to design the process of their separation. Once they had officially separated, they continued with council. The separation lasted only two weeks. That was eight years ago.
What do these two couples have in common? Simply put, they are committed to truth and personal growth — individually and together.
What I have seen in my work as a spiritual counselor is that individuals who understand that they are here first and foremost to follow their soul's mandate for growth are imminently more successful at loving relationships than those who fall into the trap of seeking a relationship for safety or security or, in some instances, to try to avoid the soul's mandate for growth.
The aim isn't staying together at all costs. Rather, it is for each individual's soul's growth be served. If one maintains commitment to growth and embracing change, the chances for a successful relationship are greater.
The art of loving relationships is more a craft, developed over time, using personally effective methods for success.
• Embrace change to ensure that you, individually, are constantly growing.
• Engage in a consciousness-raising practice together (meditation, yoga, therapy, prayer).
• Share from your heart's truth on a regular basis.
Employing these tools, or others, gives your relationship the greatest possibility for intimacy. It also ensures that if the day comes when the relationship is not what your soul needs to complete its curriculum, you will be able to navigate the change with grace, ease, integrity and respect.
LD Thompson is an author, spiritual teacher and filmmaker. He has spent more than 25 years exploring the mind/body/spirit connection and helping people find passion, power and perseverance through spiritual practice. His new book, "The Message: A Guide To Being Human," is about how we can discover our "soul's curriculum" and find greater grace and peace in our lives. Learn more at LDThompson.com.
For more by LD Thompson, click here.
For more on conscious relationships, click here.
Follow LD Thompson on Twitter: www.twitter.com/ldthompsontweet
Author, spiritual teacher, and filmmake