by Eckhart Tolle:  There's a particular dimension where creativity arises.  It's a little bit like the wick burning the flame, and its sustenance is the oil – it's in an oil lamp, and you are the flame.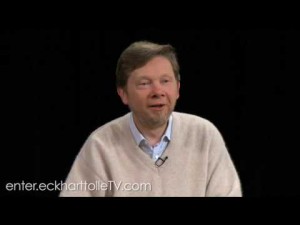 All the analogies, by the way, are very deficient, but it's just a distant approximation to get you into a sense of what that place is.  So you are the flame, and you feel your way into the very source – down the wick into where the oil is, inside yourself.  That's the place, the source, so if anything is new, creative, then it has a fragrance of the source.
Somehow, humans, even humans who are still very much identified with their mind, many of them are touched by when they see or hear or whatever – come into contact with – something that came out of that deeper level, whether it's a work of art, or a piece of music, or it could just be somebody talking.  And the words come from that deeper level.  It could just be somebody who has a good sense of humor – even that is already a form of creativity.  Spontaneous humor is to suddenly see something that one wouldn't normally see – a connection between two seemingly unconnected things, and suddenly you connect them and everybody laughs.  Some people have that. Some people have one small area in which they can be creative, and that can be enough to provide you with fulfillment and an income, for the rest of your life – and to contribute that gift to others.
Great stand up comedians, for example, have that gift.  Of course, not everything they say is spontaneous, but when they prepare their stuff, they have to be creative.  Now I don't know if anybody here has tried to be a standup comedian, but it's difficult.  Many people try.  It's hard to be funny.  But some have it, and it's amazing – those few that have that gift.  And there too, the sense of humor is spontaneously something arises, and there it comes.  It's being in touch with that.  It's wonderful to be able to be in touch with that, and feel the power that flows from there, out into this world.  Now for that, of course you need some kind of vehicle, because the power needs to flow into some kind of form.
You can touch that place also, within, and it may not flow into creativity, because you have not developed a vehicle for it.  The very same power that gives rise to creativity can also manifest itself in different ways that we would not call creativity.  It could be a healing power that comes into effect the moment you enter into relationships with others.  Healing in a wider sense, not just physical healing.  You will not suddenly become a great musician if you have never touched an instrument, just because you touch that place within yourself.  It's not going to manifest as a great scientific discovery in my case, because the vehicle is not prepared for that.  My mind is not prepared for that.  It doesn't even work that way.  So for me to expect to come up with the Unified Field Theory that Einstein didn't come up with – he tried after the theory of relativity, he tried for the rest of his life to come up with that – I am not going to come up with that.  It's very unlikely.  The vehicle has not been prepared. I am not going to be a great pianist, because I don't know how to play the piano.  So no matter how deeply I go within, it's not going to flow into that.  You need to prepare the vehicle for creativity.
More important than that is the place – to be able to go within to that place of vibrantly alive stillness, where creativity arises.  And you can go in there, and if there's no vehicle, it will not express itself in any form of creativity, not any conventional form of creativity.  But it may actually express itself in different ways.  I just mentioned one, which is an outflow in human interactions – and outflow of – very hard to put a word to it, but you can sense it, when you meet a person who is present in the interaction.  It's a different energy frequency that operates.  And that is healing.  It is so formless that it does not require a previously prepared vehicle.  You can just be.  And you emanate Being.
Eckhart Tolle
Spiritual Teacher and author was born in Germany and educated at the Universities of London and Cambridge. At the age of twenty-nine a profound inner transformation radically changed the course of his life. The next few years were devoted to understanding, integrating and deepening that transformation, which marked the beginning of an intense inward journey. Later, he began to work in London with individuals and small groups as a counselor and spiritual teacher. Since 1995 he has lived in Vancouver, Canada.
Eckhart Tolle is the author of the #1 New York Times bestseller The Power of Now (translated into 33 languages) and the highly acclaimed follow-up A New Earth, which are widely regarded as two of the most influential spiritual books of our time.
Eckhart's profound yet simple teachings have already helped countless people throughout the world find inner peace and greater fulfillment in their lives. At the core of the teachings lies the transformation of consciousness, a spiritual awakening that he sees as the next step in human evolution. An essential aspect of this awakening consists in transcending our ego-based state of consciousness. This is a prerequisite not only for personal happiness but also for the ending of violent conflict endemic on our planet.
Eckhart is a sought-after public speaker and teaches and travels extensively throughout the world. Many of his talks, intensives and retreats are published on CD and DVD. Most of the teachings are given in English, but occasionally Eckhart also gives talks in German and Spanish. In addition to The Power of Now and A New Earth, Eckhart has written a book designed for meditative reading entitled Stillness Speaks. A book consisting of selections from The Power of Now is also available, entitled Practicing the Power of Now.