Barbara Marx Hubbard:  Envision 100 million people uniting around the world to celebrate the birth of a new era for humanity with great love and fanfare – an historic day of global unity.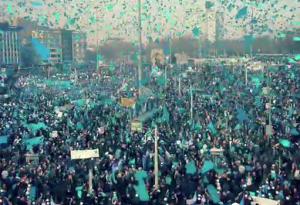 We'll link across the world in moments of song, prayer, meditation, dance, and cultural expression over a 24-hour cycle. We'll share laughter, perform acts of generosity and commit to global cooperation.
It will be a potent collective rite of passage marking humanity's entry into a new era in which we are consciously evolving together. Our goal is to reach a critical mass of people – 1% of the world – committing to a positive future together.
That is what a movement of tens of thousands is activating for Dec. 22, 2012 – an unprecedented Birth Day celebration of our creativity and common purpose to co-create a better human civilization. This will lay the tracks for many years of focused efforts on positive societal change.
Renowned evolutionary leader and bestselling author Barbara Marx Hubbard is acting as our visionary voice, traveling the world to engage people in the movement. She has partnered withStephen Dinan, founder of The Shift Network, with 200,000 members worldwide, on activating this vision.
Respected members of the Welcoming Committee have joined with them in mobilizing this movement and will appear at different global events.  Here are these 12 esteemed evolutionary leaders who have collectively sold more than 100 million books and touched countless lives:
The purpose of this Indiegogo campaign is to raise the funds necessary to launch the web TV platform, and provide the technology for a 24-hour global webcast linking events from around the world on Dec. 22 and then to turn it into a Birth 2012 Highlights Show and DVD. It engages you as an active co-creator in this historic day and allows you to participate in special ways.
An Historic Webcast
Imagine on December 22 that you can watch live celebrations from stadiums, churches, community centers, parks, and living rooms from around the world through a singular webcast that allows millions to feel and see ourselves as a single human family.
And imagine that in addition to the main webcast, we can watch video feeds from hundreds of locations – from Peru to China – allowing us to see and feel how interconnected we are. We're also envisioning ways for you to offer your Birth Day wishes and intentions for humanity.
Some Birth Day "hubs" will be small and intimate, while others will feature renowned speakers, artists, musicians, and cultural leaders.
Dozens of major cultural and music events are in various stages of production by partners and allies, including in Los Angeles, San Francisco, Philadelphia, Tucson, Byron Bay (Australia), Teotihuacan (Mexico), and Maui.
For example, in Mexico, Don Miguel Ruiz of The Four Agreements is developing a 35,000 person concert and ritual event at the culturally significant Teotihuacan pyramids.
The Birth 2012 webcast will move from time zone to time zone, focusing at the apex of each around noon local time, beginning in New Zealand and ending in Hawaii. We'll carry some of the most important  offerings from each. And then, for two minutes at noon local time, we will join globally in a moment of connection through song, prayer, meditation, sounds, music, or silence.
These moments will help punctuate and unify the 24-hour global Birth Day ritual – like the positive equivalent of contractions.  Imagine as tens of millions join together in this sacred way the sense of connection that will emerge, as well as a wave of  love for the world.
The global events will be woven together not just with technology but through a Story of Our Birth, narrated by Barbara Marx Hubbard, speakers, and artists who take us through our billions of years of history to the critical moment we find ourselves in as a human species and then point us forward into a brighter future.
Some of the Amazing Events on That Day
Here are some examples of the exciting initiatives that will be woven together by our global broadcast:
The Good Earth Singers are launching a 99 day tour on Sept. 13th to rally choirs worldwide to sing an African song at the same time on Dec. 21st, which will help to kick off the 24 hour cycle. Their goal is 15 million participating in the simultaneous song.
One Billion Oms is aiming to have the largest number of simultaneous Oms ever when it is 12 noon in India – a wave of blessing to pass around the world.
Chris Deckker, the founder of EarthDance, which has 350 locations worldwide that celebrate a global dance at the same time, will be activating their networks for a global dance celebration at the end of the 24 hour cycle.
Ministers from dozens of Unity churches are planning their own whole track ofUnity Birth 2012 activities, with their congregants celebrating worldwide.
Our Team
Our Executive Producer, Michael Olmstead, previously produced Pangea Day – a global film event in 2008 in a partnership with TED. It broadcast to an estimated 60 million people in 120 countries and 7 languages from 6 major sites and 1500 self-organizing sites – a perfect preparation for our global Birth Day. He also did the Neighborhood feeds for the Obama inauguration, the recent Colbert/Stewart rally in DC and dozens of multinational broadcasts.
Other team members include:
Rick Lukens – CEO of United Earth Networks, former International Director for Live Aid, U.S. – Soviet "space-bridges"
Charlie Gay – CEO of FaNetwork.tv, which will do our Facebook broadcast.
Mikki Willis – CEO of Elevate, producing our videos and Birth2012.tv, in partnership with Good Life Networks.
Barnet Bain – Storyteller, producer of What Dreams May Come
2300 grassroots "ACE" leaders, who have gone through a 12-week training to create their own "hubs" for this Birth Day.
Every day we learn of new events and activities – hopefully soon including yours!

Let's Reach Critical Mass
Our goal is to reach a critical mass of humanity (1%) who are committed to birthing a healthy, sustainable, peaceful and prosperous world. Our sense is that this group can act as a tipping point for the culture as a whole.
We see the large-scale celebration on Dec. 22 as the start of massive collaborations in the years to come to work on co-creating this new era.
By supporting this Campaign, you become a supporter of this global event, helping to build the connections and infrastructure for the shared web platform, as well as Birth 2012 Highlights Special and DVD that will unite the best moments of this day.
You can review more about the full campaign at www.birth2012.com and activate your own local hub or sign up for the weekly Birth 2012 Catalyst ezine.
You Can Be a Co-Creator!
To make our vision a full reality, we're opening up a unique possibility for you to support the birth of this vision AND to get access to some of the key leaders, along with special benefits.
We have an amazing team and events activating around the world. Now we invite you to help us activate the campaign on the next level, helping to build the technology platform for the webcast, and the resulting DVD with your direct support.
The more that you contribute, the better your perks and the more professional a production we can create with feeds from around the world!  With dozens of events already activating globally, we WILL apply your contributions to this work and the only difference is the scale on which it will happen.  The more we each spread the word, the more amazing the result.
Your name will always be "in lights" as a supporter of this important movement that is spreading light around the world.
This Indiegogo Campaign will run until July 29.  So make sure to invite your friends so we can make (and exceed!) our goal. All the money raised will support the global web and media infrastructure plus coordination to make this day historic.
Joining the Campaign in Deeper Ways
If you'd like to participate in deeper ways, visitwww.Birth2012.com and subscribe to our weekly Catalyst ezine, start your own local event or Hub, or get the Birth 2012 and Beyond bestselling book (reached #4 at Amazon in May, #1 in Personal Transformation).  You'll be able to find and collaborate with other people worldwide.
Create Your Own Event
We're inviting people to get creative with your own unique local events and hubs! Convene your friends and activate your own hub, sending the video feed to our shared web hub for the global events.
Going Forward Together
We don't see the Birth Day as the end, but rather the beginning of something long-term – a unified conscious change movement that amplifies what is working in the world.  Unlike past global events, we will focus on getting the grassroots tools and support in place for the connections, friendships, and alliances forged from this major planetary event to turn into long-term collaborations.  We're already hatching a vision for Emergence 2020 – giving us 8 years to grow our positive visions into full manifestation. It's time!