by Gulcin Gilbert:  The Pink Skies DVD has a terrific quote by one of my favorite directors, Tony Bill, best known for producing the academy award winning film, The Sting. It says, "You don't have to be a skydiver… you don't have to be a woman…you don't have to be — or even know — a cancer survivor… to love this movie. You just have to watch it."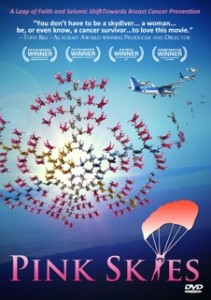 The film follows Ruth, a breast cancer survivor as she hopes to join an incredible team of nearly 200 women from 31 countries to create a World Record all Women's Skydiving Formation. The team also has a goal to raise one million dollars for breast cancer research and prevention.
Along with phenomenal skydives, the film features, breast cancer survivors, cutting edge researchers, doctors and activists. It reveals breakthroughs that have not been widely publicized, and the seismic shift towards prevention. This informational aspect is interwoven with the very challenging world record skydive event that takes place over a period of six days in Perris, California.
Skydiving and cancer are unusual topics to marry in a film. My journey as a filmmaker began from the skydiving aspect. I'd been skydiving for over 30 years. I also have numerous friends who have been touched by breast cancer. Near the end of 2008, I was having dinner with two friends, discussing an upcoming Skydiving event, Jump for the Cause (JFTC). One of my friends was a VP of Development in television, Lucia Cottone. I had participated in a previous JFTC and had been very impressed. It not only brought together the best female skydivers in the world but it also brought out the best in all the women who participated. It was skydiving with heart and purpose. I was trying to convey this to my friends when a light went on. I looked directly at my friend Lucia and said, "Somebody needs to do a documentary about JFTC." Lucia looked right back at me and responded without missing a beat, "Why don't you do it?" The gauntlet was thrown.
The JFTC event was the brainchild of Malory Lewis (daughter of the late Shari Lewis) who partnered with Kate Cooper-Jensen and Tony Domenico, skydiving formation organizers. After five events together, the trio decided this would be the last one; another factor that compelled me to make this film.
Pink Skies was my first full-length feature project as a director, producer and writer. I teamed with Zac Heileson, a highly regarded filmmaker in Honolulu, who also agreed to write the score with Michael Earlewine.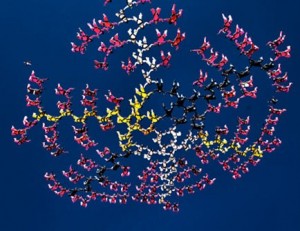 Directing the shoot during JFTC was one of the most challenging things that I've done as I was also one of the skydiving participants. In the film we show five formation skydives and one solo dive. At the event we made 20 jumps over six long hot days with temperatures exceeding 110 degrees daily.
Between our ground team and the epic aerial footage shot from seven of the world's top aerial photographers, I had the material to show the world the tremendous athleticism and discipline that goes on in our sport; that its not just a "daredevil" activity.
The next task was bridging skydiving, breast cancer and women's empowerment. I made a list of specialists I wanted to interview. After listening to doctors at Tower Oncology, the Brandman Breast Center and City of Hope, I made the decision to focus on prevention. In the world of formation skydiving there is an oft repeated caution, "Don't be a victim." This phrase would form the undertone of theme for Pink Skies.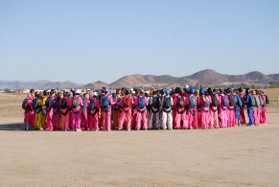 I noted that several oncologists sent breast cancer patients to nutritional counseling. So we went to interview Dr. David Heber, Director of the Center for Human Nutrition at UCLA. He pointed out studies showing that fats consumed in our diet arrive in breast tissue less than 18 hours later. He blamed the "bad" fats in our diet, composed of processed oils made from cheap subsidized corn, often used in fast foods, as being a leading cause of inflammation in women's bodies. He advocates a diet rich in unprocessed, multi-colored fresh vegetables and fruit. We spoke with researchers who have found certain foods like blueberries, pomegranate seeds, grapefruit seed extract and mushrooms help prevent breast cancer and recurrences.
Dr. Susan Love, a top breast cancer researcher and surgeon, remarks about a study where breast cancer cells found in healthy tissue were placed on unhealthy tissue, they grew. She goes on to explain the importance of a healthy "host" and how nutrition, exercise and stress reduction have now been proven to help reduce the risks of cancer.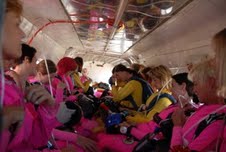 Dana Ullman, a leader in Homeopathic Education, cites a study linking the over-use of antibiotics to an increase in breast cancer. This leads to the topic of the environmental toxins that surround us. Stacy Malkan, co-founder of the Campaign for Safe Cosmetics enlightens our viewers about the carcinogens that are used regularly in body care products and cosmetics.
We know many of the reasons why we get cancer. The final keynote in the film is about taking responsibility for your health rather than waiting for big business to find a cure. "Don't be a victim."
Pink Skies premiered as the opening night film for Los Angeles Women's International Film Festival. It went on to win a Gold Medal at the Park City Film Music Festival, Best Documentary Film at the Beverly Hills Film & TV Festival and the VegasCinefest.
This year Pink Skies premiered on the Documentary Channel and earned high ratings as part of "Her Take" a month featuring films by female directors. It continues to screen bi-monthly.
Hannover House released the film on DVD this month to 14,00 outlets and Amazon.
Pink Skies online streaming is planned for October, Breast Cancer Prevention Month.
For further information on Pink Skies, including the trailer and links to resources seewww.PinkSkiesthemovie.com.
https://awaken.com/2012/07/making-pink-skies-a-documentary-about-empowerment-skydiving-and-breast-cancer/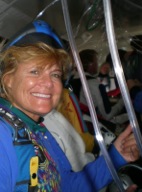 Producer and Director