Over the centuries, as the Maya learned to prosper in the rain forest, the settlements grew into city-states, and the culture became ever more refined.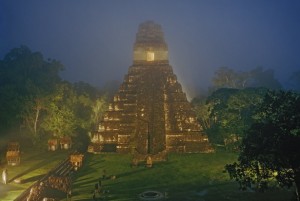 The Maya built elegant multiroom palaces with vaulted ceilings; their temples rose hundreds of feet toward the heavens. Ceramics, murals, and sculpture displayed their distinctive artistic style, intricate and colorful. Though they used neither the wheel nor metal tools, they developed a complete hieroglyphic writing system and grasped the concept of zero, adopting it for everyday calculations. They also had a 365-day year and were sophisticated enough to make leap-year-like corrections. They regularly observed the stars, predicted solar eclipses, and angled their ceremonial buildings so that they faced sunrise or sunset at particular times of year.
Mediating between the heavens and earth were the Maya kings—the kuhul ajaw, or holy lords, who derived their power from the gods. They functioned both as shamans, interpreting religion and ideology, and rulers who led their subjects in peace and war. Demarest and others have described the Maya centers as "theater states" in which the kuhul ajaw conducted elaborate public rituals to give metaphysical meaning to movements of the heavens, changes of the calendar, and the royal succession.
Behind the cloak of ritual, the Maya cities acted like states everywhere, making alliances, fighting wars, and trading for goods over territory that ultimately stretched from what is today southern Mexico through the Petén to the Caribbean coast of Honduras. Well-worn trails and stucco-paved causeways crisscrossed the forest, and canoes plied the rivers. But until Fire Is Born arrived, the Maya remained politically fragmented, the city-states charting their own courses in the jungle.
By 378 Waka was a prestigious center, boasting four main plazas, hundreds of buildings, temple mounds up to 300 feet (90 meters) tall, ceremonial palaces clad in painted stucco, and courtyards graced with carved limestone altars and monuments. A trading power, it occupied a strategic location on the San Pedro River, which flowed westward from the heart of the Petén. Its market was filled with Maya foodstuffs such as maize, beans, chilies, and avocados, along with chicle harvested from sapodilla trees to make glue, and latex from rubber trees to make balls for ceremonial games. Exotic goods found their way to Waka as well. Jade for sculpture and jewelry and quetzal feathers for costumes came from the mountains to the south, and obsidian for weapons and pyrite for mirrors from the Mexican plateau to the west, the domain of Teotihuacan. 
A sprawling metropolis of 100,000 people or more—perhaps the largest city in the world at the time—Teotihuacan left no records that epigraphers have been able to decipher. But its motives in dispatching Fire Is Born to the Maya region seem clear. Waka sat on a promontory overlooking a tributary of the San Pedro with a protected harbor, excellent for berthing large canoes. "It was a perfect staging area" for military action, notes Southern Methodist University archaeologist David Freidel, co-director of excavations at Waka. Which may be precisely what Fire Is Born had in mind.
Waka appears to have been key to the envoy's mission: to bring the entire central Petén into Teotihuacan's orbit, through persuasion if possible, force if necessary. His principal target was Tikal, a kingdom 50 miles (80 kilometers) east of Waka. Tikal was the most influential city-state in the central Petén. Bring Tikal into the fold, and the other cities would follow.
Fire Is Born's soldiers were probably shock troops, designed principally to display his bona fides and demonstrate good faith. He needed reinforcements, and he had come to Waka to get them. In return, he could offer the goodwill of his patron, a mysterious ruler known from inscriptions as Spear-thrower Owl, probably a highland king, perhaps even the lord of Teotihuacan.
Waka's ruler, Sun-faced Jaguar, apparently welcomed Fire Is Born. Based on hints in texts from Waka and other sources, Freidel, project co-director Héctor Escobedo, and epigrapher Stanley Guenter suggest that the two rulers cemented their alliance by building a fire shrine to house the sacred flame of Teotihuacan.
Along with moral support, Fire Is Born probably secured troops. His expeditionary force likely carried the spear-throwers and javelins typical of Teotihuacan and wore backshields covered with glittery pyrite, perhaps meant to dazzle the enemy when the soldiers spun around to hurl their weapons. Now warriors from the Petén, equipped with stone axes and short stabbing spears, swelled their ranks. As armor, many wore cotton vests stuffed with rock salt. Eleven hundred years later, the Spanish conquistadores shed their own metal armor in the sweltering rain forest in favor of these Maya "flak jackets."
The military expedition most likely set out for Tikal in war canoes, heading east, up the San Pedro River. Reaching the headwaters, the soldiers disembarked and marched either along the river or on the canyon rim overlooking it.
Garrisons probably dotted the route. News of the advancing column must have reached Tikal, and somewhere along the stretch of riverbank and roadway, perhaps at a break in the cliffs about 16 miles (26 kilometers) from the city, Tikal's army tried to stop Fire Is Born's advance. Inscribed slabs, called stelae, later erected at Tikal suggest that the defenders were routed. Fire Is Born's forces continued their march on the city. By January 16, 378—barely a week after his arrival in Waka—the conqueror was in Tikal.
The date is noted on Tikal's now famous Stela 31, which yielded early clues to Fire Is Born's importance when David Stuart of the University of Texas at Austin deciphered it in 2000. The second passage on the stela records what happened after the city fell: Tikal's king, Great Jaguar Paw, died that very day, probably at the hands of the vanquishers.
Fire Is Born appears to have dropped whatever pretense he had assumed as a goodwill ambassador. His forces destroyed most of Tikal's existing monuments—stelae put in place by 14 earlier rulers of Tikal. A new era had begun, and later monuments celebrated the victors. Stela 31, erected long after the conquest, describes Fire Is Born as Ochkin Kaloomte, or Lord of the West, probably referring to his origins in Teotihuacan. Some Maya experts have also suggested another meaning: that Fire Is Born represented a faction that had fled to the west—to Teotihuacan—after a coup d'état by Great Jaguar Paw's father years earlier and had now returned to power.
It apparently took Fire Is Born some time to pacify Tikal and its environs. But a year after his arrival, Tikal's monuments record that he presided over the ascension of a new, foreign king. Inscriptions identify him as the son of Spear-thrower Owl, Fire Is Born's patron in Teotihuacan. According to Stela 31, the new king was less than 20 years old, so Fire Is Born probably became Tikal's regent. He was certainly the city's de facto overlord.
In the years that followed the conquest, Tikal itself went on the offensive, expanding its reach across the Maya region. Fire Is Born appears to have masterminded the campaign, or at least inspired it. References to him have been identified in cities as distant as Palenque, more than 150 miles (240 kilometers) to the northwest. But the most poignant testimony to his empire-building comes from Uaxactún, just 12 miles (19 kilometers) from Tikal. There a mural shows a Maya nobleman giving homage to a warrior in Teotihuacan regalia—perhaps one of Fire Is Born's troops. A stela depicting a similar warrior guards a tomb where archaeologists found the remains of two women, one pregnant, a child, and an infant. Freidel and others have concluded that these were the remains of Uaxactún's royal family, slain by Tikal's forces. The king, presumably, was taken to Tikal and sacrificed there.
Decades after the arrival of Fire Is Born and long after he must have died, the aggressive rulers of Tikal continued to invoke Fire Is Born and his patron state, Teotihuacan. In 426, Tikal took over Copán, 170 miles (274 kilometers) to the south in present-day Honduras, and crowned its own king, Kinich Yax Kuk Mo, who became the founder of a new dynasty. A posthumous portrait shows him wearing a costume typical of central Mexico—a reference to Teotihuacan—and like Fire Is Born, he bore the title Lord of the West.
Some Mayanists believe that Tikal was acting as a vassal state for Teotihuacan, expanding its dominion throughout the Maya lowlands, with Fire Is Born acting as a kind of military governor. Others see him less as a conqueror and more as a catalyst who spurred Tikal to expand its own power and influence.
His fate is a mystery. There is no known record of his death, and no evidence that he ever ruled a Maya kingdom. But his prestige lived on. The Waka stela recording his arrival there wasn't erected until a generation later, indicating that even a long-ago visit from the great Fire Is Born was a matter of civic pride.
The Maya were never the same after him. Later rulers transformed Tikal into what Nikolai Grube, and Simon Martin of the University of Pennsylvania Museum, have described as a Maya superpower. And in both religion and art, the Classic Maya began to embrace foreign motifs and themes, adding sophistication and cosmopolitan exuberance to an already flourishing culture.
Soon another political development fed this cultural flowering. In the sixth century, the kan (meaning "snake") lords of Calakmul, a city just north of the Peten, began their own expansion. In time Calakmul came to challenge Tikal, and the rivalry split the Maya world. Like the 20th century Cold War, this contest spurred heights of achievement even as it sowed tension and strife. But unlike our own, the Maya Cold War ended in catastrophe.