by Susana Frioni:  When it comes to practicing and learning about yoga (especially in the early days of your journey) I highly recommend immersing yourself in a room full of other people while being guided by an awesome yoga teacher.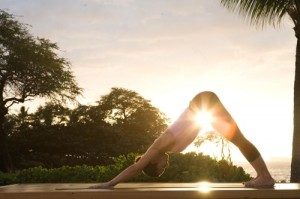 And by an awesome yoga teacher, I mean the kind of yoga teacher that intuitively knows when you need a little extra encouragement to push your edge some more or when you need a gentle reminder to back off in the moments you start to overdo it. I also mean the kind of yoga teacher who is able to adjust your pose to correct your alignment when you're really off the mark or simply be able to give you a healing massage to help you relax deeper.
But not all of us are able to practice yoga at our favourite yoga studio and therefore are not able to be guided by an awesome yoga teacher in person. Maybe their timetable offerings don't suit you. Maybe a yoga pass isn't possible with your existing budget. Or maybe you live in a remote area where yoga studios don't even exist.
Either way, this doesn't mean you have to miss out on getting your yoga on. There are so many valuable resources out there for you to practice at home that I thought I would share with you some of my favourites.

ONLINE YOGA CLASSES
Provided you have access to the internet you'll be able to access these classes. All you really need is your own yoga mat and a sacred place to practice at home, preferably somewhere where you won't get interrupted.
1. YogaGlo.com – Free trial for 15 days then $18/mth
You can search for the right yoga class by style, level, teacher and duration which I personally think is really awesome. Also, if you are new to yoga then definitely check out the "Beginner Center". Here you will find an introductory series to a variety of yoga styles which will prepare you for all of the level one classes. Plus, if you want to dive deeper into the yoga philosophy or just get extra guidance with specific yoga poses, you can do that too at YogaGlo.
2. Yogis Anonymous LIVE – some free preview classes otherwise $15/mth
Live streaming classes with world renowned yoga teachers all in the comfort of your own home. You can choose classes based on teachers, level and duration.
3. YogaVibes.com – Free trial for 15 days then $20/mth or $200/yr.
An online collection of yoga classes featuring awesome yoga teachers and a comprehensive yoga library.
4. MyYogaOnline.com – $9.95/mth or $89.95/yr
Another awesome online collection of yoga classes featuring awesome yoga teachers.

YOUTUBE YOGA CHANNELS
The bonus with YouTube yoga classes is that they are free!
5. Tara Stiles – Free
Tara Stiles is the Founder of Strala Yoga in NYC, the author of Yoga Cures and Slim Calm Sexy Yoga, and is Deepak Chopra's personal Yoga Teacher. If you ask me, she is one super cool yogini who is deeply rooted in generosity. Simply head to her channel if you're looking for mini yoga routines that you can do anywhere at anytime.
7. Yoga Journal – Free
Lots of free videos here from yoga routines to breakdowns of yoga poses.

YOGA E-COURSES
8. Marianne Elliott's 30 Days of Yoga Courses – $100
These courses are brilliant! Once you fill out a questionnaire, Marianne will recommend a practice (or two) for you. Once you choose which practice you want to do, you'll have access to it in a variety of formats (video, audio + text) so you can download it to whatever device you prefer. On top of that you receive daily guidance from Marianne herself to help you on your 30 Day Yoga journey. Plus you can connect with a community of people who have done the 30 days or are doing the 30 days. And to top it off, Marianne has a variety of 30 Days of Yoga editions such as Beginners 30 Days of Yoga, Yoga for Busy People and 30 Days of Curvy Yoga.

YOGA DVD'S
One of my very good friends loves practicing yoga from a DVD. In fact, there are a group of them who meet weekly at the local town hall and practice yoga together from the DVD. I personally have never bought a yoga DVD but if I did I would start with these…
10. Kathryn Budig DVD collection
11. Shiva Rea's DVD collection
If you have any other yoga resources you love to learn from be sure to mention them in the comments below.
Author bio: Susana Frioni is a Life Coach, Vinyasa Yoga Teacher + Studio Coordinator based in Brisbane inspiring + empowering people to take the journey inward to heal + transform their lives. In her experience there is nothing more ecstatic + liberating than following your deepest truth + living it wholeheartedly. Susana is also the creator of Selfish For 27 days, an online program where women shamelessly put their health + happiness first.
Positive affirmation for the day: I am safe and free of my fears.