by Knate Myers:  Skylights is a timelapse video made up of nearly 6,000 photos taken over the last few months in New Mexico, USA. Every frame in this video is a photograph.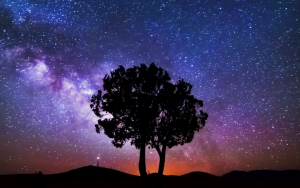 Making this video was probably one of the most fun and most rewarding projects I've ever done. I greatly enjoyed traveling to remote parts of the state and it was an absolute thrill staying up all night shooting the stars. It's hard to describe how very still, quiet and beautiful the night sky is when you are so far away from the city. Most nights we all go to sleep and miss a spectacular show overhead, I hope I can capture just a hint of what may have been missed.
Many shots were taken at the VLA ( Very Large Array) in New Mexico were several scenes from the movie "Contact" were filmed. The VLA is a perfect location for capturing the night sky because of its lack of light pollution. In areas this dark, the Milky Way is visible to the naked eye and almost looks like a string of clouds.
This is my second timelapse video and I cannot wait to get started on my next!
You can follow me on facebook: facebook.com/kn8photo
Equipment used:
Nikon D300s, D7000 and D5100 Tokina 11-16mm and Nikkor 10.5mm Fisheye. The eclipsed sunset shot was captured with a Sigma 500mm.
I used the Stage Zero Dolly from Dynamic Perception for the motion controlled shots in this video.
Original music created specifically for this video by Lowercase Noises
lowercasenoises.com/facebook.com/lowercasenoises
Download this track at music.lowercasenoises.com/track/skylights
and finally, thanks to my wonderful wife Aubrey who encourages, supports and puts up with this passion of mine 🙂