By Phil Mercer, BBC News, Sydney:  India's 'hugging saint' Amma has embraced 31 million people around the world and has now taken her special brand of hands-on spirituality to Australia.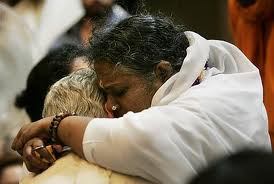 Sri Mata Amritanandamayi Devi, known to an army of devotees as Amma (mother), has drawn large, patient crowds in Melbourne, Sydney and Queensland.
"My message for the world is peace, love and compassion. Those are universal, like honey. You take honey anywhere it remains sweet," she told the BBC through a translator at a packed gathering in a school gymnasium in Sydney.
Born in Kerala, southern India, to a humble fishing family in September 1953, Amma's mission to embrace strangers has taken her from Brazil to Sri Lanka and from Britain to Haiti.
Amma says she is "eternally connected to the power source."
On a recent trip to the Malaysian city of Penang she hugged 40,000 people over a period of 20 hours without taking a break.
"Everyone has that power within," she said of her remarkable stamina.
"It just needs to be awakened. I have realised that I am not like a normal battery that will die after being used for some time. I am eternally connected to the power source."
In Sydney, she was welcomed by the governor of New South Wales, Marie Bashir, who praised her "journey across the Earth bringing messages of peace, understanding, acceptance and greater tolerance amongst all people."
"We need people who are courageous enough to take those messages to everyone because sadly too much conflict still exists in many countries," the governor added to warm applause.
At the Sydney Boys' High School, 4,000 people queued throughout the day, waiting serenely for their turn for a loving touch from an international spiritual leader and humanitarian.
"When you give a hug to Amma you are in bliss," said Hema, a 43-year mother of two, who migrated to Australia from Kerala.
"She is a divine lady and she has divine power. She is basically sharing and pouring out love. We feel energised, our batteries get recharged every time we see her."
"Tears just rolled down my cheeks. It was just like a mum giving you a loving hug and her love was pouring into me. That feeling lasts forever," she explained.
The crowd comprised of men, women and children from a host of different cultural backgrounds.
Her eyes reddened by tears, Emma, a 42-year old mother from Sydney, was one of the first to feel Amma's cradling embrace.
"I came today to experience this amazing woman who I think is a channel for God. I just needed to feel her love to flow through me," she told the BBC.
The crowd was made up of men, women and children from many cultural backgrounds.
"It was the most amazing thing I have ever experienced. She just hugged and hugged, and I felt all the questions I had were answered and that everything was good. It strengthens my belief in God and it feels good to be in a roomful of people that have hope and want to make this world a better place."
Amma has set up schools, hospitals, orphanages and environmental programmes and her organisation Embracing The World (ETW) has a powerful presence in many countries.
In India, it has built 40,000 houses for the homeless and helped 100,000 Indian women through self-help groups and micro-credit loans.
In the United States, tens of thousands of people are fed each year in ETW-sponsored soup kitchens.
"It is a God-given gift to every single human being in this world," she said as she embarked on another marathon embrace.
"It is like an ember. You have to constantly blow on it and it will become a wildfire; the fire of love, the fire of compassion."
"Pure love is the most powerful energy in this world. It can transform anyone of anything," said Amma.