by Sri Sri Ravishankar: It was a misty morning as the sun tried to shine through the dark clouds hanging over the Manipur valley.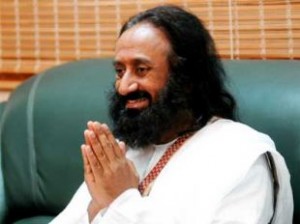 A knock on the door broke the silence. I opened the door and saw a group of youth standing there with Deepa, an Art of Living volunteer. I welcomed them in. A moment of silence passed. Deepa introduced them as leaders of different groups (MNLT, NAGA, etc.) Some tried to avoid eye contact, a few were suspicious, others curious. I offered them sweets, which they readily accepted.
I asked them their problems and what I could do for them. That opened the flood gates. A sober atmosphere all of a sudden became spirited. They started saying how India had been unjust to them – lack of infrastructure, inadequate educational facilities, not even a library of good quality, no job opportunities, discrimination at virtually all levels, and an imperialistic attitude by the central government. Their list was endless. They even targeted me and said that no Indian spiritual leader had ever visited them. Their anger was understandable given their background.
I looked into their eyes. Behind those tough eyes, I saw softness, a pain that perhaps nobody understood. All these circumstances had led them to ban Hindi and Hindi movies.
"We are searching for our roots before Hinduism," remarked one, "as this religion has made us so passive. Though, we cannot get rid of it so easily as festivals like Holi are deeply embedded in our culture."
Any one who would give a patient hearing with an open heart could not but feel sympathy for their plight.
I interrupted, "Wait a minute, there is no point in reeling in victim consciousness. Do you have any constructive non-violent ways to better yourselves?" A moment of silence passed.
I appreciated their sincerity towards their cause. These are motivated youth who are ready to put their lives at risk and fight for a cause. They are not here to make easy money for themselves or remain in a comfort zone like most youth. "You should not lose even one youth from your cadre." I emphasized that unless the violence stops and a safe atmosphere is created for the industrialists to begin businesses here, the nation would not prosper. "It is for you to ensure that there is safety for economic growth. Violence will make you poorer." I insisted that there was nobody against them and that the centre had no imperialistic interest. It was simply a lack of initiative. Everyone is concerned about their own stability. Who has the time to show vengeance? I emphasized, "You are fighting with an empty chair – there is nobody there!" The idea of an imperialistic centre is just your imagination. The only sensible way is to adopt democratic norms and press for the changes you wish for." This made them sit back and think.
The youth then pointed out how obsolete laws still exist. 80% of the population lives in 10% of the land – the plains. They are not permitted to own land in the hills. 20% of the tribes have exclusive rights to 90% of the land that are in the hills as well as the plains. A law that was prevalent during colonial rule in the 18th century. No politician is willing to change this outdated law because this 20% votes en-masse. As a result equal opportunity is denied for the Manipur Hindus who are congested in 10% of the land. "No one will listen to us if we are quiet and non-violent. We are left with no option but to follow the Nagas and take to guns", they argued.
At every breath, they said "Your Indian government." Such hostility even a foreigner would be embarrassed to express. The youth wanted the removal of obsolete laws, and to obtain equal opportunities for all. They were opposed to the special powers granted to the army in Manipur that do not even exist in Jammu and Kashmir. The step-motherly attitude of the centre towards Manipur should go they felt. I saw the wound behind their words and wondered what we could do to help them. Just sympathy alone would not do, some concrete action must be taken to restore their faith in the democratic institutions, in the human-ness of people.
The Art of Living could build schools, vocational training centres for the youth and an orphanage. It had not been easy for our volunteers to take courses in Manipur. Deepa, along with Brijit had encountered several threats from communists while organizing our programs in Manipur. She spent hours convincing them that if we could have our programs in Russia and China, why not Manipur?
I invited the youth to come and tour South India. They should own the whole of India, not just Manipur. Youth of their caliber alone can transform a stagnant society. They should educate the people about their problem in a non-violent manner. "Dedicate one year to the country, don't waste time fighting your own people. Do something creative." Dialogue is a sign of civil society I told them.
As they walked out, they looked a little bewildered – like a child who has a new task of which it is not certain. They came to convince me, but left confused. The ball is now in their court. Will they be able to sway their peers to drop violence. I went back to the balcony, the clouds had cleared and the sun was shining on the hills. It was time for a brisk walk.