by Peter H. Diamandis:  Ponoko the innovative New Zealand company is changing the way products can be manufactured, providing entrepreneurs global reach on a local level.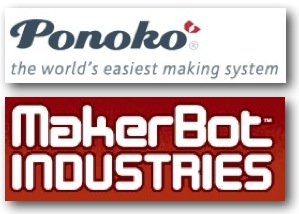 Below, I'm going to discuss the Ponoko process and its vision for the future of manufacturing.
Imagine yourself controlling the design, manufacture and global distribution of your products from your home office, or even your bedroom.
+Ponoko believes this is possible, and even probable. This pioneering company, headquartered in Wellington, New Zealand, is leading the way toward decentralized manufacturing and efficient distribution, building on advances in 3D printing and other developing technologies. Designers will soon be able to take their inspirations to market almost immediately.
Co-founder David ten Have outlined three ways in which Ponoko is creating more efficient manufacturing:
First, Ponoko is teaching designers and manufacturers a new, common language in which to communicate.
Second, it's working to automate every step of the process, to avoid error.
Third, Ponoko offers creators the chance to think in terms of variety, rather than mass merchandising. In this way, you question your assumptions about the manufacturing process and what you can achieve. In effect, you become a local craftsman with a global reach.
To begin with, a common language. The language that manufacturers speak is different from that of designers. Their needs are different. Designers may think more in terms of possibility and what-ifs, while manufacturers need to know how to build that design in the real world. "One of the important things about Ponoko in how we've approached manufacturing is to create a design language," ten Have told me. That way, each side knows the terms and the specifics; there are Ponoko templates for design files that its manufacturing plants can follow easily.
If customers have their design files prepared correctly, according to Ponoko specs, they can be manufacturing something within 10 months, which is quite fast in this world, ten Have said. A customer sends in the design specs, chooses where the product will be manufactured (at one of the company's five manufacturing plants around the world), chooses the materials, pays by credit card and eventually receives the parts for assembly.
The creation of a common design language has allowed Ponoko to implement the second component of its process, automation: "We can automate prices, we can automate distribution, we can automate checking design files for validity," explained ten Have. "That also helps from a customer service point of view because customer service can communicate with the designer in this common language."
Third, by allowing anyone of any scale to construct something professionally in a distant manufacturing facility, Ponoko is tapping into the power of the human imagination to create on any scale: variety.
"Variety is an important part of the Ponoko vision," ten Have said. "It's the ability to reach out to any customer anywhere in the world to give them an amazing product, to have that product manufactured right beside that customer. For example, I might design something and it goes off to Mumbai where I would use the infrastructure while living in Wellington, New Zealand. I want to hold on to that but reach out into the world."
So designers will be able to create custom-made items for any local market without the bureaucracy of mass marketing. "Artistic expression has always been a natural part of the human condition," explained ten Have, "and over the past 200 years the systems have bred it out, but it's still about the expression of being human."
This, then, is the chance for anyone to become expressive in atoms, not just bits. We're moving from a world where there is a limited population of designers and a limited population of manufacturers to one where we're going to have millions of manufacturers and millions of designers and makers. Variety, individual expression and instant availability will go through the roof.
You now have the chance to design and to create, to distribute a product and reach out into the world. You don't have to be a mass manufacturer to have an impact. Don't let your small scale stop you from having big ambitions.
In my next blog I'm going to write about how 99designs has brought top-level design and branding to companies of all sizes, at a fraction of the cost, using crowdsourcing and gamification of the design process.
NOTE: As always, I would love your help in co-creating BOLD, and will happily acknowledge you as a "contributing author" for your input.  Please share with me (and the community) in the comments below what you specifically found most interesting, what you disagree with and any similar stories or examples that reinforce this blog that I might use as examples in writing BOLD. Thank you!