by Sri Sri Ravishankar: To me, India is empowered when at least 80 per cent of its people are empowered.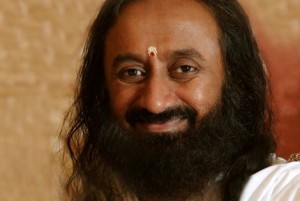 As most of India's population live in rural areas, just a few urbanites being empowered will be unfortunate for this country. India will be truly empowered when people at the grassroots start feeling confident about themselves, their way of life, their tradition and their language.
A Frenchman is proud of being French or speaking French, but here in India for a Kannadiga, Telugu, Maharashtrian or Tamilian, pride depends on how well versed he or she is in English or any other foreign language. Their pride is in eating pizzas, owning branded jeans and shoes, and the foreign trips they make.
There is nothing wrong in adopting good things from other cultures. The problem is, creativity and entrepreneurship dies out completely when you don't take pride in your own culture and lose self-esteem.
The most effective yardstick of empowerment is the willingness of people to take responsibility. We need to move away from the blame culture. Instead of blaming the elected government, religious leaders, police and even the weather, people need to take responsibility for creating not just a prosperous but a happy society as well.
Many societies in the world are prosperous, but they are miserable to the core. To me, India empowered means a crime-free, humane society. A renewed focus on the core areas of strength will make India realise its true potential.
India has the best of tourism which needs to be exploited. India has one of the best scientific minds, most of which is youth power. The ancient Indian knowledge of yoga is a rage all over the world. From Kashmir to Kanyakumari, India is bestowed with a rich lore of spiritual literature and philosophy. Ayurveda has the potential to make India a leader in holistic healthcare.
India should be proud of its diverse cuisine, dance and music, rich textiles, embroidery, jewellery and embellishments, which have been widely appreciated all over the world. As the proverbial saying goes, India is sitting on a huge pile of wealth, not knowing its worth. The real empowerment will happen when people of India realise that they have the power to change.