In 1959, the Chinese invasion of Tibet threw open the doors to the mysterious realm of Tibetan Buddhism and suddenly this rich, ancient tradition was propelled into the modern world.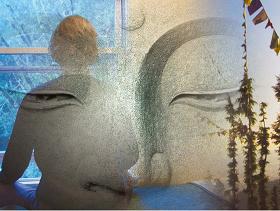 Half a century later, Padmasambhava's prophecy has come true and the teachings of Tibetan Buddhism are found in every corner of the earth.
'When the iron bird flies and horses run on wheels, the Tibetan people will be scattered like ants across the face of the earth.'
~ Guru Padmasambhava of Tibet, 8th Century
WHEN THE IRON BIRD FLIES takes us on an up-close and personal journey following the astounding path of one of the world's great spiritual traditions from the caves of Tibet to the mainstream of Western culture. Along the way, the film tackles the provocative exchanges between Buddhist practitioners and scholars and Western scientists, psychologists, and educators now at the heart of the emergence of a genuine Western tradition of Buddhism.
And the film investigates the question: "In these increasingly challenging times, can these age-old teachings help us find genuine happiness and create a saner, more compassionate 21st century world?" 
Through candid interviews with contemporary teachers and practitioners, rare archival footage, and striking images of modern life that illuminate and make accessible the Buddha's core teachings, the film creates a vivid and entertaining portrait of the world of Tibetan Buddhism, as it is manifesting in America and the West.
APPEARANCES BY:
ANAM THUBTEN • B. ALAN WALLACE • CHOKYI NYIMA RINPOCHE • HH DALAI LAMA • DZIGAR
KONGTRUL RINPOCHE • DZONGSAR KHYENTSE RINPOCHE • E. GENE SMITH • ELIZABETH
MATTIS-NAMGYAL • FLEET MAULL • GESHE KELSANG WANGMO • JETSUN KHANDRO
RINPOCHE • MATTHIEU RICARD • PHAKCHOK RINPOCHE • REGINALD RAY • DR. RICHARD
DAVIDSON • RICHARD GERE • TSOKNYI RINPOCHE • LAMA TSULTRIM ALLIONE • and others… 
Director VICTRESS HITCHCOCK  Producers VICTRESS HITCHCOCK & AMBER BEMAK
Editor CATHERINE HOLLANDER  Consulting Editor JOHANNA DEMETRAKAS  Music WILLIAM (KIP) KUEPPER IV, STEVE TIBBETTS,LOOPSY DAZY, DAVID HYKES, TRAVIS CALLISON,
RAVENNA MICHALSEN and others… 
USA • Running time: 96 minutes • English • Not Rated • Color and B&W
© 2012 Chariot Productions & Pundarika Foundation www.chariotvideos.com
WHAT PEOPLE ARE SAYING ABOUT THE FILM
"This film is a riveting, poignant and beautiful window into the flowering of Tibetan Buddhism in the West. Please watch and listen – it touches the place in us that longs to realize truth and live from our awakened heart."
~  Tara Brach, Buddhist teacher and author of Radical Acceptance
"When the Iron Bird Flies chronicles the unlikely advent of Tibetan Buddhism into America and its capacity to influence and offer effective methods for dealing with life's challenges, whatever the background. This is an important documentary… that chronicles Tibetan Buddhism's ability to adapt to cultural environment while maintaining its basic integrity. Tibetan Buddhism has now expanded into so many countries and wherever it lands, it remains relevant, applying itself as a potent medicine to the condition of suffering which as a human family we all experience."
~ Jetsunma Tenzin Palmo
"With a chorus of many voices and a cast of intelligent appealing characters, When the Iron Bird Flies shows a new/old and better way to live in an increasingly dark time."
~ Jeffery Paine, Author, Re-enchantment: Tibetan Buddhism Comes to the West        
AUDIENCE REACTIONS FROM OUR SNEAK PREVIEW SCREENING
"I'm weeping. An awake world is so tantalizingly possible."
~ Viewer quote from Tricycle's BuddhaFest Online Festival
"The film did a wonderful job of demystifying the world of Tibetan Buddhism for me."
~ Viewer quote from BuddhaFest
SCREENINGS AND FESTIVALS TO DATE
Spirit Film Festival, TelAviv October 2012
Buddhist Film Festival Europe October 2012
Rubin Museum of Art NYC, US Premier Screenings throughout Fall 2012
The Starz Denver International Film Festival November 2012
International Buddhist Film Festival Official Selection 2012