SURGEONS once made incisions large enough to get to a gallbladder or other organs by using conventional tools they held in their own hands.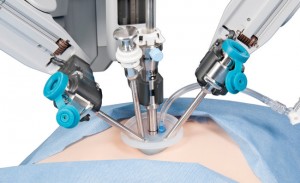 Today, many sit at a computer console instead, guiding robotic arms that enter the patient's body through small openings not much larger than keyholes.
But even this minimally invasive surgery usually requires multiple incisions: one for the camera system showing the way to the surgeon at the console, and others for each of the robotic arms that do the cutting and stitching.
Now there are robotic systems — one on the market, others in development — that are even less intrusive. They require only a single, small incision through which the robotic arms and camera enter.
This could lead to faster recovery, said Dr. Michael Hsieh, a Stanford professor and a urologist at Lucile Packard Children's Hospital and Stanford Hospital. "There's only one wound to heal with this procedure, rather than three," he said.
Dr. Hsieh, who performs abdominal surgery on small children, uses minimally invasive techniques that typically now require three incisions. His patients generally go home a day or two after surgery, he said, "but I think they would recover more quickly if I could reduce my multiple incisions to just one," he said. "And there will be less scarring, or even no scarring, if you enter through the navel."
He will soon have a chance to try out the new method on his patients. Stanford Hospital is buying a system from Intuitive Surgical called Single-Site that requires only a single incision of about one inch. The system, approved by the Food and Drug Administration only for gallbladder removal, is used as an add-on to a basic robotic system from Intuitive, known as the da Vinci Si.
The Si costs $1.3 million to $2.2 million, said Angela Wonson, a spokeswoman for Intuitive, based in Sunnyvale, Calif. The Single-Site can add $60,000 or more to the bill, or far less, depending in part on the equipment that hospitals might already have.
The East Jefferson General Hospital in Metairie, La., has bought a Single-Site system. Seated at a computer there, Dr. Joseph Uddo Jr. can control the instruments, which can enter the body by way of one incision in the navel. Surgical instruments like scissors are at the ends of the robotic arms. "To change a tool, you take out one instrument and load in another," he said.
ANOTHER surgical robotic system, now in development, enters the body through a remarkably small incision — six-tenths of an inch, or 15 millimeters. The robot was designed by Drs. Dennis Fowler and Peter Allen of Columbia University and Dr. Nabil Simaan of Vanderbilt University. Once inside the body, it unfolds to reveal a camera system and two snakelike arms that perform the surgery. The system has been licensed toTitan Medical in Toronto.
Minimally invasive surgery through a single incision can also be performed with long, thin laparoscopic tools that surgeons wield as they watch a video monitor. But single-incision laparoscopic surgery with hand-held instruments can have problems, said Dr. Adrian Park, chairman of the department of surgery at the Anne Arundel Medical Center in Annapolis, Md., who specializes in minimally invasive gastrointestinal surgery. One difficulty is its ergonomic challenge to doctors, while another is the pressure that the tools place on tissue during single-incision operations.
Robotic systems, by contrast, are likely to ease single-incision surgery, said Jeffrey J. Tomaszewski, a fellow in urologic oncology at the Fox Chase Cancer Center in Philadelphia.
"Robots are an extension and multiplier of our own surgical hands," Dr. Tomaszewski said. He has done traditional laparoscopic surgery with hand-held instruments, including operations through a single incision. "But you can be working at constrained angles," he said. "A robot can improve the angle of workability."
Robotic systems, though, have yet to show that they are always worth the extra money they cost. Such proof will take time, said Allison Okamura, an associate professor of mechanical engineering at Stanford who directs the Collaborative Haptics and Robotics in Medicine Lab. "The jury is still out because of the longevity of the studies that are required," she said.
Dr. Tomaszewski agreed. "We surgeons love using the robot," he said. "But the question is, and what we all have to fight hard to do, is to determine for what procedure the robotic approach provides the best benefit."
Dr. Hsieh says he hopes that single-site robotic systems will someday bring a benefit he's long dreamed about.
"We may get to the point where we do outpatient, scarless robotic surgery," he said. "That's what I'm shooting for."