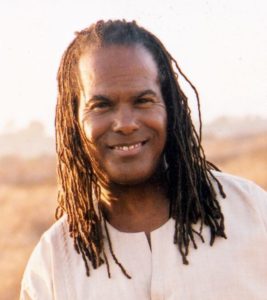 Home Base
Los Angeles, California USA
Foundation of Teaching
Self-Realization, Presence, Non-Duality, Love, Positive Affirmation

Example of Teaching
"Happiness is the natural state of our being"

Total Views: 14,862
Books
Contact
Agape International Spiritual Center 5700 Buckingham Parkway Culver City, CA 90230 310.348.1250
info@agapelive.com
Reverend Michael Beckwith
Dr. Michael Beckwith's life is a living testament to building spiritual community. In the 1970's he began an inward journey into the teachings of East and West, and today teaches universal truth principles found in the New Thought-Ancient Wisdom tradition of spirituality. Gifted with a vision of a trans-denominational spiritual community, in 1986 he founded the Agape International Spiritual Center upon his faith in that original vision.
In a personal letter to him Coretta Scott King wrote, "I greatly admire what you are doing to bring about the Beloved Community, which is certainly what my dear husband worked for and ultimately gave his life."
Recently described in "What Is Enlightenment?" magazine as a "non-aligned trans-religious progressive," Dr. Beckwith shares his powerful conviction of creating the Beloved Community through his participation on international panels with other peacemakers and spiritual leaders including Dr. T. Ariyarante of Sri Lanka, and Arun Gandhi, grandson of Mohandas K. Gandhi. He is co-founder of the Association for Global Thought, an organization dedicated to planetary healing and transformation.
Dr. Beckwith is the originator of the Life Visioning Process, which he teaches throughout the country along with meditation, scientific prayer, and the spiritual benefits of selfless service. He facilitates retreats, workshops and seminars. His books include: "Inspirations of the Heart," "Forty Day Mind Fast Soul Feast," and "A Manifesto of Peace."
Dr. Beckwith's achievement as a humanitarian and emissary of peace have been widely acclaimed. In 2003, his activities were enumerated when he was written into the Congressional Record of the 107th congress.
Thousands gather weekly to receive inspiration from Dr. Beckwith at the Agape International Spiritual Center in Culver City, California. Together, Drs. Michael Beckwith and Rickie Byars Beckwith have written lyrics and music performed by the Agape International Choir in concert venues worldwide. Always in demand, their performances inspire peace and goodwill in the global community. They share their lives with their four adult children and six grandchildren.
Quotes
"You are at a choice-point in every moment of each circumstance, each activity, spoken word and thought."
"Learn to become still. And to take your attention away from what you don't want, and all the emotional charge around it, and place your attention on what you wish to experience."
"There are laws of the universe and if you practice them they will respond to you."
"You can break yourself free from your hereditary patterns, cultural codes, social beliefs; and prove once and for all that the power within you is greater than the power that's in the world."
"Creation is always happening. Every time an individual has a thought, or a prolonged, chronic way of thinking, they're in the creation process. Something is going to manifest out of those thoughts."
"There's enough for everyone. If you believe it, if you can see it, if you act from it, it will show up for you. That's the truth."
"We are unlimited beings. We have no ceiling. The capabilities and the talents and the gifts and the power that is within every single individual that is on this planet, is unlimited."
Read More Quotes >>>