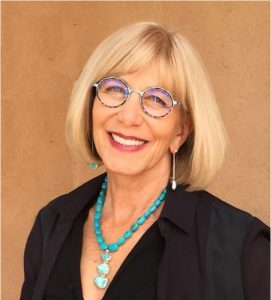 Home Base
Santa Fe, NM USA
Foundation of Teaching
Integrative Medicine, Inner Peace, Power of Mind, Psychology
Example of Teaching
"The question is not whether we will die, but how we will live."
Total Views: 11,830
Joan Borysenko Ph.D.
This distinguished pioneer in integrative medicine is a world-renowned expert in the mind/body connection. Her work has been foundational in an international health-care revolution that recognizes the role of meaning, and the spiritual dimensions of life, as an integral part of health and healing. Eloquent and inspiring in settings that range from hospitals to hospices, from theaters to conference venues, and from boardrooms to houses of worship, she is a credible bridge between faith and reason. Her brilliance, humor, and authenticity—in combination with the latest research—make her a compelling and inspiring speaker and writer.
After graduating magna cum laude from Bryn Mawr College in 1967, Dr. Borysenko earned her doctorate in Medical Sciences from the Harvard Medical School, where she completed post-doctoral training in cancer cell biology. Her first faculty position was at the Tufts University College of Medicine in Boston. But after the death of her father from cancer, she became more interested in the person with the illness than in the disease itself, and returned to Harvard Medical School to complete a second postdoctoral fellowship, this time in the new field of behavioral medicine. Under the tutelage of Herbert Benson, M.D., who first identified the relaxation response and brought meditation into medicine, she was awarded a Medical Foundation Fellowship and completed her third post-doctoral fellowship in psychoneuroimmunology.
In the early 1980's Dr. Borysenko co-founded a Mind/Body clinic with Dr. Benson and Dr. Ilan Kutz, became licensed as a psychologist, and was appointed instructor in medicine at the Harvard Medical School. Her years of clinical experience and research culminated in the 1987 publication of the New York Times best seller, "Minding the Body, Mending the Mind," which sold over 400,000 copies. The 20th anniversary edition, newly revised, was published in 2007. Author or co-author of 16 other books and numerous audio and video programs, including the Public Television special "Inner Peace for Busy People," she is the Founding Partner of Mind/Body Health Sciences, LLC located in Santa Fe, NM. Her most current work- a legacy project that encompasses all her research and teachings- is an integrative approach to personalized wellness and recovery, developed with colleague Gilah Rosner, Ph.D. It is called SyNAPSE. That acronym stands for Science; you (it is personalized for the individual); Nutrition; Awareness and attention training; Positive Psychology, Spirituality; and Epigenetics. It is never too late to restructure the brain and bring forth Best Self
Dr. Borysenko's warmth and credibility—plus her lively sense of humor—create a compelling presence. You can access video clips of Joan's inspirational reflections in the Community Members section of this Web site.  Joan is one of the most popular and sought after speakers in the field of health, healing, and spirituality, her engaging and well researched presentations are perfect both for professionals and for the general public.  Joan lives in the mountains of New Mexico with her husband, Gordon Dveirin, and their two dogs, Mitzi and Milo.
Quotes
"May you be at peace, May your heart remain open, May you awaken to the light of your own true nature, May you be healed, May you be a source of healing for all beings."
"Remember—your to-do list is immortal. It will live on long after you're dead."
"The question is not whether we will die, but how we will live."
"Questions are the creative acts of intelligence."
"Perhaps the hardest lesson to learn is not to be attached to the results of your actions."
"Forgiveness is not the misguided act of condoning irresponsible, hurtful behavior." Nor is it a superficial turning of the other cheek that leaves us feeling victimized and martyred. Rather it is the finishing of old business that allows us to experience the present, free of contamination from the past."
"The Four Rules of Life:  1. Show Up 2. Pay Attention 3.Tell the Truth 4. Don't be upset at the results."
Read More Quotes>>>