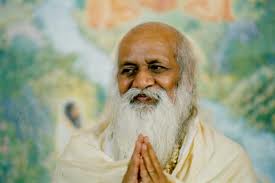 Place of Birth
Central India
Foundation of Teaching
Natural Law, Vedic Tradition, Transcendental Meditation 
Example of Teaching
"The important thing is this: to be able, at any moment, to sacrifice what we are for what we could become."
Total Views: 8,356
Maharishi Mahesh Yogi
Known around the world as the guru to the Beatles, Maharishi Mahesh Yogi  introduced the technique of Transcendental Meditation (TM) , a Vedic tradition of knowledge to the West starting with his first global tour in 1958. He also established Maharishi Vedic Universities around the world to offer mastery over Natural Law.
In the late 1960s and the 1970s the Maharishi achieved fame as the guru to  a host of  celebrities and launched the TM-Siddhi program that claimed to offer practitioners the ability to levitate for world peace. The Maharishi's Natural Law Party was founded in 1992, and ran campaigns in dozens of countries. He moved to MERU, Holland, near Vlodrop, the Netherlands, in the same year. In 2000, he created the Global Country of World Peace, a country without borders, and appointed its leaders. In 2008, the Maharishi announced his retirement from all administrative activities and went into silence until his death three weeks later. At the time of his death, there were close to 1,000 TM  centers around the world.
Mahesh Prasad Varma (later changed to Maharishi Mahesh) was born on January 12th 1918 to the Kshatriya (warrior) caste in the village of Chichli near Jabalpur, India's central region. After completing a masters degree in Physics from Allahabad University he felt increasingly attracted to the spiritual life and became a disciple of Swami Brahmananda Saraswati. After studying meditation under the guidance of the Shankaracharya for 12 years he travelled to Uttarkashi in the Himalayas and entered into a meditation retreat.  He then decided to teach meditation to the world and assumed the title "Maharishi" (great sage), a common title amongst Indian Gurus. In 1957 he founded his first organization the Spiritual Regeneration Movement, later renamed Transcendental Meditation. He traveled around in India before embarking on a world tour to teach meditation techniques .
The Maharishi also established Maharishi Vedic Science (MVS) based on interpretation of the ancient Vedic texts  that includes two aspects – the practical aspect of the Transcendental Meditation technique and the TM-Sidhi programme, as well as the theoretical aspect of how MVS is applied to the daily living. These applications include programmes in: Maharishi Vedic Approach to Health; Maharishi Sthapatya Veda, a mathematical system for the design and construction of buildings; Maharishi Gandharva Veda, a form of classical Indian music; Maharishi Jyotish (astrology); Maharishi Vedic Agriculture; and Consciousness-Based Education.
Quotes
"The important thing is this: to be able, at any moment, to sacrifice what we are for what we could become."
"I let people make remarks about me, but it doesn't touch me, all those remarks".
"Whatever we put our attention on will grow stronger in our life."
"Life finds its purpose and fulfillment in the expansion of happiness."
"When we think of failure; Failure will be ours. If we remain undecided; Nothing will ever change. All we need to do is want to achieve something great and then simply to do it. Never think of failure For what we think, will come about."
"The whole effect of activity is to enrich the feeling of the other."
"We must take situations as they are. We must only change our mental attitudes towards them."
Read More Quotes >>>