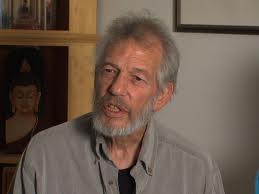 Place of Birth
Albany, New York, USA
Foundation of Teaching
Non-Duel, Compassion, Forgiveness, Conscious living & dying, Native American, Sufism, Theravada Buddhism, mystical Christianity
Example of Teaching
"Letting ourselves be forgiven is one of the most difficult healings we will undertake. And one of the most fruitful."
Total Views: 17,674
Stephen Levine
Stephen Levine (July 17, 1937 – January 17, 2016) was an American poet, author and teacher best known for his work on death and dying. He was one of a generation of pioneering teachers who, along with Jack Kornfield, Joseph Goldstein and Sharon Salzberg, have made the teachings of Theravada Buddhism more widely available to students in the West. Like the writings of his colleague and close friend, Ram Dass (formerly Richard Alpert), Stephen's work is also flavored by the devotional practices and teachings (also known as Bhakti Yoga) of the Hindi Guru Neem Karoli Baba.
This aspect of his teaching may be considered one way in which his work differs from that of the more purely Buddhist oriented teachers named above. Since Buddhism is largely considered a non-theistic faith, his allusions in his teachings to a creator, which he variously terms God, The Beloved, The One and 'Uugghh', further distinguish his work from that of other contemporary Buddhist writers.
One of the most significant aspects of Stephen's work and one for which he is perhaps best known, was his pioneering approach to working with the experience of grief. Over 34 years, Stephen and his wife Ondrea counselled concentration camp survivors and their children, Vietnam War veterans as well as victims of sexual abuse.  Although Stephen acknowledged that our experience of grief is perhaps at its most intense when a loved one dies, he also drew our attention to grief's more subtle incarnations.
"Our ordinary, everyday grief," accumulates as a response to the "burdens of disappointments and disillusionment, the loss of trust and confidence that follows the increasingly less satisfactory arch of our lives". In order to avoid feeling this grief we "armour our hearts," which leads to a gradual deadening of our experience of the world. Stephen taught that "when a loved one dies, or indeed when our own death approaches, the intensity of the loss often renders our defenses ineffective and we are swept up by a deluge of griefs, both old and new."
The author of several books about dying, Stephen and his wife Ondrea spent one year living as if it were their last. Their son Noah initially rejected his father's work, then started to teach meditation on his own. Stephen and Ondrea appeared in the 2007 documentary, Meditate and Destroy, that focuses on the life of their son Noah Levine.
For many years, Stephen and Ondrea lived in near seclusion in the mountains of Northern New Mexico. Ondrea still lives in Northern New Mexico. Stephen Levine died at his home after a long illness on January 17, 2016 at the age of 78.
Quotes
"Detachment means letting go and nonattachment means simply letting be."
"Don't cling to your self-righteous suffering, let it go. . . . Nothing is too good to be true, let yourself be forgiven. To the degree you insist that you must suffer, you insist on the suffering of others as well."
"Simply touching a difficult memory with some slight willingness to heal begins to soften the holding and tension around it."
"Letting ourselves be forgiven is one of the most difficult healings we will undertake. And one of the most fruitful."
"If you were going to die soon and had only one phone call you could make who would you call and what would you say? And why are you waiting?"
"Those who insist they've got their 'shit together' are usually standing in it at the time."
"If there is a single definition of healing it is to enter with mercy and awareness those pains, mental and physical, from which we have withdrawn in judgment and dismay."
Read More Quotes >>>