by: Jason Dorrier:  FutureMed 2013 has officially arrived. On Monday, Singularity University kicked off day one at their NASA Moffet Field campus, a stone's throw from Hangar One and the NASA Ames Research Center.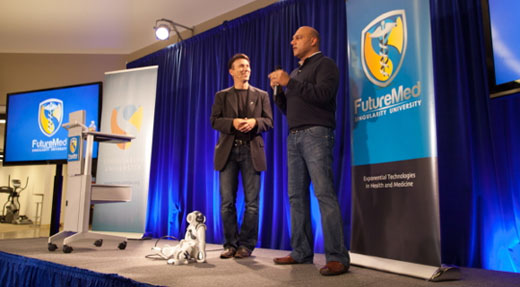 Seventy-five years ago this place housed giant airships—now the tech is smaller and exponentially more powerful. Which, of course, is what FutureMed is all about. (See here for a live feed of Tuesday's lectures.)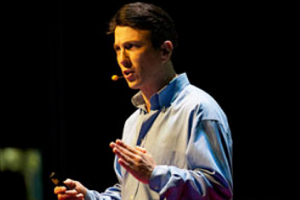 To open the program, Director of FutureMed, Daniel Kraft, set the tone by delivering a whirlwind tour of exponential technologies and their impact on medicine and healthcare in the 21st century. Kraft said, "We've been flying blind." But that's changing fast. He went on to note how information technology is the basis of a vast and growing sensor network, connected real time at the speed of light. Smartphones can give EKG readouts or take blood sugar levels—and are increasingly able to analyze the data, provide initial diagnoses, and involve healthcare professionals as needed.
Meanwhile, robots are aiding surgeons and helping the disabled walk or give a hug. Exoskeletons, lab-on-a-chip, artificial intelligence, 3D organ printing, low-cost genomics, design thinking. "The future is already here, it's just not evenly distributed yet." That's Kraft quoting science fiction author, William Gibson—with an addition of his own, "We should see a lot of that future here this week." (A statement duly supported by Intuitive Surgical's Da Vinci surgical robot set up in the classroom's corner.)
FutureMed day one also featured Pete Worden, Director of NASA Ames Research Center. Worden joked he was only invited because he's the "landlord" but went on to give a captivating talk on the state of astrobiology and exoplanets.
Where else might we find life? Mars (of course), the Venusian upper atmosphere, Europa's tidally heated ocean, Encaladus's water volcanoes, or some "bizarre" form of life in the hydrocarbon lakes on Titan. And if Earth is unique in our solar system, there's always the vast and still growing array of planets around other stars.
After dinner and a glass of wine, students gathered for an evening session withSingularity University's co-founder, Peter Diamandis, and John Abele, co-founder and Director Emeritus of Boston Scientific.
Diamandis spoke eloquently of the power of exponentials and, though not without its problems, humankind's abundant future—a future that has been on the way for the last century and more, as technology has raised life expectancy and improved living standards virtually across the globe.
Meanwhile, Abele drew on his long experience in the healthcare industry to note that while technology is growing exponentially, the limiting factor may well be human psychology and politics. He likened healthcare to the Arab Spring and its aftermath. We can recognize the problem and tear down the existing framework—but what do we replace it with? A tougher nut to crack. "Life is theater," he said. Having the right solution is one thing—presenting it in a compelling enough way to create lasting change is something else entirely.
FutureMed day one featured plenty of intriguing ideas to chew on. But the program's secret sauce was most evident in its array of extraordinary participants.
Speaking into a tomato (with a  hidden mic), students stood up and proved (unsurprisingly) intelligent and diverse, hailing from all over the world—Brazil, Mexico, France, Hungary, Russia, Korea, the US, Canada, and more. In addition to being MDs, PhDs, and CEOs, they are cooks, composers, Broadway producers, painters, extreme sports enthusiasts, and avid travelers.
Getting all these talented individuals together to learn and talk technology and entrepreneurship is a good reminder of what ultimately powers progress—connecting bright minds to spark ideation, creation, and execution. Here's to a great week! We'll be back to give Hubbers the skinny a little later on.
Written By: Jason Dorrier
Image Credit: Deborah Huber Photography