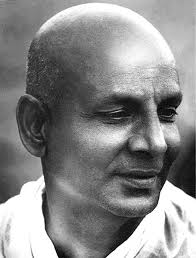 Birth Place
Pattamadai, Tamil Nadu, India
Foundation of Teaching
Hinduism, Yoga, Meditation, Vedanta
Example of Teaching
"Put your heart, mind, and soul into even your smallest acts. This is the secret of success."
Total Views: 5,477
Swami Sivananda
Hindu spiritual teacher, Sivānanda Saraswati was born  on September 8, 1887 in the Tirunelveli district of Tamil Nadu, southern India. He studied medicine and served in British Malaya as a physician for ten years. Over time, a sense that medicine was healing on a superficial level grew in him, urging him to look elsewhere to fill the void. In 1923 he left Malaya and returned to India to pursue a spiritual quest.
Upon his return to India in 1924, he visited Varanasi, Nashik, and then Rishikesh, where he met his Guru, Vishwānanda Saraswati. It was Vishwānanda who initiated him into the Sannyasa order, and gave him his monastic name. Sivānanda settled in Rishikesh, and immersed himself in intense spiritual practices. Sivānanda performed austerities for many years but he also continued to nurse the sick. With some money from his insurance policy that had matured, he started a charitable dispensary at Lakshman Jhula in 1927, serving pilgrims, holy men and the poor using his medical expertise.
Sivananda founded the Divine Life Society in 1936 and Yoga-Vedanta Forest Academy in 1948 and authored  over 200 books on yoga and Vedanta. He established Sivananda Ashram, on the bank of the Ganges at Sivanandanagar near Rishikesh.
Sivananda Yoga,  called the yoga of synthesis, is now spread in many parts of the world through Sivananda Yoga Vedanta Centres, which was spread by Sivānanda's disciple, Vishnu Devānanda, whom he sent to the west to spread yoga.
In 1945, Sivānanda created the Sivananda Ayurvedic Pharmacy, and organized the All-world Religions Federation. He established the All-world Sadhus Federation in 1947 and Yoga-Vedanta Forest Academy in 1948.
A prolific author, Sivānanda wrote 296 books on a variety of subjects: metaphysics, yoga, religion, western philosophy, psychology, fine arts,ethics, education, health, poems, dramas, essays and anthology. His books emphasized the practical application of yoga philosophy over mere theoretical knowledge. He was known to have said, "An ounce of practice is better than tons of theory. Practice Yoga, Religion and Philosophy in daily life, and attain Self-realization."
Sivānanda died on 14 July 1963 in his Kutir on the bank of the Ganges, in Sivanandanagar.
Quotes
"Serve, Love, Give, Purify, Meditate, Realize."
"A desire arises in the mind. It is satisfied immediately another comes. In the interval which separates two desires a perfect calm reigns in the mind. It is at this moment freed from all thought, love or hate. Complete peace equally reigns between two mental waves."
"There is something good in all seeming failures. You are not to see that now. Time will reveal it. Be patient."
"Complete peace equally reigns between two mental waves."
"Crave for a thing, you will get it. Renounce the craving, the object will follow you by itself."
"Desire is poverty. Desire is the greatest impurity of the mind. Desire is the motive force for action. Desire in the mind is the real impurity. Even a spark of desire is a very great evil."
"Forget like a child any injury done by somebody immediately. Never keep it in the heart. It kindles hatred."
"Desire nothing, give up all desires and be happy."
Read More Quotes >>>