Oprah Winfrey took the Next Chapter edition of her show to Fairland, Iowa on Sunday where she explored a new type of spirituality: Transcendental meditation.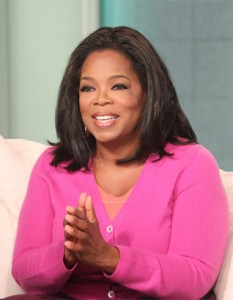 Fairland is not only the home to Maharishi University of Management; it is also the unlikely hub of meditation, sustainability, creativity and entrepreneurship, according Jeanne Ball, a teacher of Transcendental Meditation.
Amidst the Midwestern farmland, thousands of people — including children — come together to meditate. Fairland has not only become the largest meditation community in the United States, but it is also a core center for brain research.
 But what exactly is transcendental meditation?
The practice itself is basic — a simple and natural meditation carried out for 20 minutes, twice a day. The aim of the meditation is to bring a person into the most silent and peaceful level of consciousness.
Results: When carried out properly, the meditation aims to give a person greater coherence, self-awareness and deep rest.
Who can take part? The meditation, which is not religious or philosophical, is carried out by some five million around the world, according to the Transcendental Meditation Program. The practice is open to all cultures, age-groups and life-styles, which makes it one of the more popular meditation techniques.
History: Transcendental meditation is based on the ancient Vedic tradition that comes from India. The technique of achieving higher states of consciousness was passed down over the generations and grew popular in other parts of the world.
Other Techniques: While some forms of meditation force the mind to contemplate or think of things in a certain way, transcendental meditation allows the mind to transcend effortlessly in the most natural way, which gives peace and rest to both the mind and body.
Oprah Visits the Mecca of Transcendental Meditation
Oprah has been practicing the transcendental meditation technique since 2011 and has since integrated it into her everyday.
I brought transcendental meditation teachers into Harpo Studios to teach me and my team how to meditate. Seven of us. Seven led to 70… to 270… Now everybody in the company meditates at 9 o'clock in the morning and 4:30 in the afternoon. No matter what's going on, we stop, we meditate, she said.
Oprah further explored the technique by visiting the Maharishi School of the Age of Enlightenment, a K-12 school that uses transcendental meditation as an integral part of their curriculum.
During her visit Oprah also visited one of the two Golden Domes dedicated to the practice. In a striking shot, she meditates with thousands of women. Every morning and evening some 2000 volunteers from over 50 countries meet in the domes to practice a large group meditation called the Invincible America Assembly.
We all gathered in our dome for the sole purpose of being still, she said. Stillness is the space where all creative expression, peace, light and love come to be. It was a powerfully energizing yet calming experience. I didn't want it to end. I walked away feeling fuller than when I came in, full of hope and a sense of contentment and deep joy.