by Timothy Hurley: John C. Lilly of Kula, Maui, a brilliant but controversial brain researcher who went on to champion dolphins and interspecies communications, died Sunday at age 86.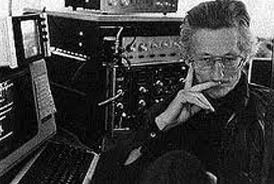 Lilly died of heart failure at Cedars of Lebanon Hospital in Los Angeles. A memorial service will be held Thursday in Los Angeles, with a memorial service on Maui to be scheduled later.
"His many friends will miss him," said his former wife, Mary Lilly of Ha'iku. "Their interest in him kept him alive."
Lilly was born in St. Paul, Minn., on Jan. 6, 1915. He attended the California Institute of Technology, Dartmouth College Medical School and the University of Pennsylvania Medical School.
During World War II, he conducted high-altitude research at the Johnson Foundation for Medical Physics. After the war, he trained as a psychoanalyst and worked on mapping the brain for the U.S. Public Health Service.
Lilly pioneered scientific research in the areas of electrical brain stimulation, sensory deprivation and human-dolphin communication. He invented the isolation tank in the 1950s and began using psychedelics such as LSD and ketamine in the solitude of the tank about a decade later.
In l959, he established the Communication Research Institute in the U.S. Virgin Islands to study the vocalizations of bottle-nosed dolphins. He later established the Janus Project in San Francisco to do further research on dolphins.
Lilly retired to Maui in l992.
He is the author of 19 books and hundreds of scientific articles, and was the inspiration for two Hollywood films, "Altered States" and "Day of the Dolphin."
He is survived by two sons, John Jr. of Zacatecas, Mexico, and Charles of Ha'iku; a daughter Cynthia Cantwell of Paradise, Calif.; a brother, David of St. Paul, Minn.; and Barbara Clarke-Lilly of Kihei and Philip H. Bailey of Kula, both of whom Lilly adopted as adults.