10/25/10
Richard (now Radhanath Swami) met an extraordinary saint, Neem Karoli Baba, in Vrindavan. The Baba was affectionately addressed as 'Maharaji' by his followers. He taught that by chanting the names of Krishna and Rama everything desirable is accomplished.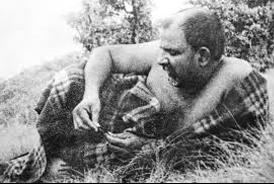 His solution for avoiding the addiction of criticizing and finding faults with others is very simple, "Love everyone, serve everyone, and feed everyone." Radhanath Swami learnt that Neem Karoli Baba was a siddha Purusha, a perfected being. It had been documented that sometimes he could be in two distant places at the same time.
One of Radhanath Swami's most endearing qualities is his humility, and I can therefore understand his natural liking for Neem Karoli Baba, who also exemplified this precious quality. I once heard that a certain sadhu who had heard that Maharajji was a great saint, decided to test him. He went to Maharajji's house in the village and asked for food. Maharajji served rotis(flat bread) but the sadhu threw them into the fire and angrily got up and walked away. Maharajji was unperturbed in his service; he begged forgiveness from the sadhu for his offense and then requested him to wait for some time. Neem Karoli Baba then personally cooked rice, vegetables and sweets for him. Seeing this great soul's humility, the sadhu was moved, and fell at Maharajji's feet and begged forgiveness. He truly practised, "Love everyone, feed everyone and serve everyone." Radhanath Swami once fondly recollected Neem Karoli Baba's instruction on remembering God, "Keep God in your heart the same way as you keep money in a bank".
Radhanath Swami describes his soul-searching discussions with Ram Dass, a celebrated disciple of Neem Karoli Baba and the author of the classic 'Be Here Now'. Ram Dass was formerly Richard Alpert, a professor at Harvard University, and along with his friend and colleague, Timothy Leary had popularized LSD as a means of expanding consciousness. Radhanath Swami saw Baba Ram Dass's deep affection for his guru and was touched by their exchange of spiritual love.
Radhanath Swami writes about Ram Dass in his autobiography as a friendly person with whom a sense of brotherhood grew as they shared the realizations and inspirations they had gained in their spiritual journeys.  Radhanath Swami also learnt that in 1967, Ram Dass (who was then Richard Alpert) travelled to India, where he met the American spiritual seeker Bhagavan Das. As he guided Alpert barefoot from temple to temple, Bhagavan Das began teaching him basic mantrasand asanas, as well as how to work with beads. After a few months, Bhagavan Das led Alpert to his guru, Neem Karoli Baba.  Maharajji soon became Alpert's guru and gave him the name "Ram Dass," which means "servant of God." Under the guidance of Maharajji, Ram Dass was instructed to receive teaching from Hari Dass Baba, who taught in silence using only a chalkboard. While in India, Ram Dass also corresponded with Meher Baba; however, he remained primarily focused on the teaching of Hari Dass Baba.
Among other things, Hari Dass Baba trained Ram Dass in raja yoga and ahimsa. It were these life-changing experiences in India that inspired Ram Dass to write the contemporary spiritual classic, Be Here Now, in which he teaches that everyone is a manifestation of God and that every moment is of infinite significance.
Radhanath Swami was meeting many saints in India as well as western seekers like himself who impressed him with their sincerity.