by Ravi Prakash: In 1967 R.P. Vaish, a devotee of Baba's, came to Kainchi to see Baba. He was being transferred to Delhi, and he told Baba that he wanted to tour Kashmir before taking up his post.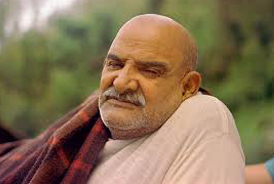 When Vaish was leaving, Baba gave him an umbrella and said, "Keep it with you. It rains heavily there." Vaish hesitated to accept the umbrella and said, "I have an umbrella at home. This one will serve many people here at the ashram." Baba did not listen to him and again asked him to keep it with him. During his stay in Kashmir, Vaish went about holding the umbrella. On his return to Delhi, he again went to Kainchi for Baba's darshan and to return the umbrella. On seeing him, Baba said, "You have come to return the umbrella?" Baba then said, "Keep it with you. It will be a protective umbrella over you." Vaish did not understand what Baba meant, but he went back to Delhi, taking the umbrella with him.
In 1978, five years after Baba's Mahasamadhi, Vaish was transferred to Lucknow and left his extra luggage, including the umbrella, at his house in Delhi. In Lucknow he started suffering from heart, liver and spleen trouble. A check-up at Balrampur Hospital revealed that his spleen was enlarged by thirteen centimeters, but the doctors did not advise an operation due to his heart trouble. As no other treatment option was available to him in Lucknow, he and his wife went to the All India Institute of Medical Sciences in Delhi. Back in Delhi, Vaish was getting ready to go from his house to the hospital when his wife noticed the umbrella lying there. The idea came to her that by not keeping the umbrella gifted to him by Maharaj with him always, he might have been deprived of Baba's protection. In the hot month of June, Shrimati Vaish escorted her husband to the hospital and hid the umbrella under his pillow.
Vaish was examined thoroughly once again. His spleen was still enlarged by thirteen centimeters. The doctors told him that he would have to stay in the hospital for six months and agreed that it was not advisable to operate on the spleen in his condition. They would have to rely on the medicines to affect a cure. They told him that he would have to take a special tablet once a month that would reduce his spleen by two and a half centimeters over thirty days. He took the first tablet that same day. The next morning he felt so much better that he asked the doctor to get his spleen examined again. Saying encouraging words to him, the doctor explained that the process of measuring would be repeated after six months, not every day. Vaish was not satisfied with this and sent his wife to the chief medical superintendent with a request to get his spleen examined again as a special case. The superintendent ordered it to be re-measured, and the results showed that his spleen had indeed reduced in size by thirteen centimeters. Since the tablet was not that effective, the doctors were all amazed at the sudden change. When they expressed their surprise to Vaish, he pulled out the umbrella and said, "By its grace."