"For you Westerners, it is Swedenborg who is your Buddha, it is he who should be read and followed!"
– D. T. Suzuki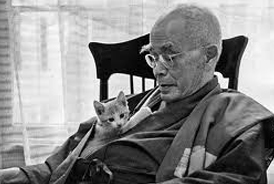 D. T. Suzuki is generally acknowledged as the individual who brought Zen Buddhism to the West. His writings and personality have profoundly influenced many leading Western thinkers and artists. Theologians and philosophers Thomas Merton, Paul Tilich, and Alan Watts, psychologists Carl Jung and Erich Fromm, Jazz musician John Cage, writers and poets J. D. Salinger, Alan Ginsberg and Gary Snyder were all significantly affected by his work. The complete set of Suzukis Japanese works includes ninety-five titles and fills 30 volumes. He also has had over 30 titles published in English. Among these his Outlines of Mahayana Buddhism, Essays in Zen Buddhism: First Series, and An Introduction to Zen Buddhism have perhaps enjoyed the widest circulation.
SUZUKI AND SWEDENBORG
It is not known for sure when Suzuki first came into contact with Swedenborg's ideas but Suzuki was well read in the transcendentalism of Emerson and the Pragmatism of Henry James, both of which had their roots in the writings of Swedenborg. Suzuki was the first person to translate Swedenborg's works into Japanese. He got involved in this project when the Swedenborg Society in London contacted him after he was recommended to them by the Japanese embassy as a competent translator and one who could help them render Swedenborg's writings into Japanese.
While translating four of Swedenborg's books, Suzuki undertook a serious study of Swedenborg which culminated his publishing a biography of Swedenborg as a companion to his translations.  Suzuki also was one of the three people who officially started the Japanese Swedenborg Society which was to oversee the publication and promotion of Swedenborg's works in Japan. Ten years later Suzuki published another essay on Swedenborg, describing Swedenborg's view of heaven and Other-Power.
ZEN AND SWEDENBORG
While meeting with two renowned scholars of religion Henry Corbin and Mircea Eliade in 1954, Suzuki was asked what similarities he found between Mahayana Buddhism and the theology of Swedenborg. According to Corbin, Suzuki grabbed a spoon and said suddenly, "This spoon now exists in Paradise…." He later added, " We are now in Heaven."
SWEDENBORG'S WORKS TRANSLATED INTO JAPANESE BY D.T. SUZUKI
Tengai to Jigoku (Heaven and Hell)
Shin Eresaremu to Sono Kyosetsu (New Jerusalem and Its Heavenly Doctrine
Shinshi to Shin'ai (Divine Love and Wisdom)
Shinryo Ron (Divine Providence)
BOOKS AND ARTICLES ON SWEDENBORG WRITTEN BY D.T. SUZUKI
Suedenborugu (Swedenborg)
Suedenborugu: Sono Tenkai to Tarikikan (Swedenborg: His Views on Heaven and Others-Power)