by The Economic Times: Neem Karoli baba, a spiritual teacher in search of whom Steve Jobs is said to have come to India, continues to be a revered figure 38 years after his death. One of the recent additions to his band of followers is Hollywood actress Julia Roberts.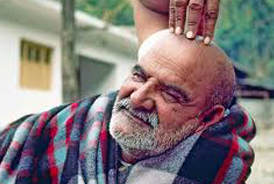 About a year ago, Roberts told Elle magazine that she was attracted to Hinduism and converted to the religion after seeing a picture of the baba. Born Lakshmi Narayan Sharma in Akbarpur, Uttar Pradesh, the baba is called 'Maharaj-ji' by his followers. A devotee of the monkey god, Hanuman, he taught that compassion is the highest virtue.
According to one version, Jobs, who was then 18, and his friend Dan Kottke travelled to the baba's ashram in what is now Uttarakhand but found that the guru had passed away by then.
Steve Jobs no more: His work, legacy
But other celebrities came into contact with the baba and have gone on to live a life guided by his teachings. Among them is Larry Brilliant, a physician, humanitarian and the former head of Google's philanthropic arm.
Among his lifelong devotees is Ram Dass, an American born as Steve Alpert. Dass is the author of the spiritual book 'Be Here Now' that has sold over a million copies. He, Brilliant and other followers of the baba started the charitable organisation Seva Foundation. Jobs donated $10,000 in 1978 to help launch Seva.
The baba's followers run ashrams in Delhi, Uttar Pradesh, Uttarakhand, Himachal Pradesh and New Mexico, United States. In 2008, American gossip website Gawker reported that Facebook founder Mark Zuckerbergwas at an ashram of 'Maharj-ji.' He was taken there by Brilliant, who is also said to have taken Google co-founder Larry Page and eBay's Jeff Skoll there.