by Jolene Bridges: I don't know whether it was synchronicity, fate, or a blessing, but for the last 3 or 4 days in a row, Rumi has either come up in my research, in conversation, and weirdly enough even on a TV show I was watching.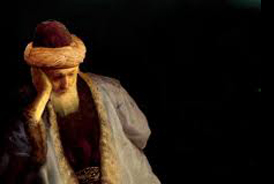 Having been reminded of how much I love Rumi poems, I decided to get out my TheEssential Rumi and share some Rumi inspiration in a hub. I had packed several big boxes of books away when I moved in February and I still haven't gotten around to unloading them. I knew my Rumi book was in one of those boxes. I decided that I was going to find that book today, come hell or high water. I went into the storage area, fumbled around to find one of the boxes of books, opened the box, and The Essential Rumi was right on top. Hmmmmm.
In case you are unfamiliar with Rumi, Rumi, short for Jalāl ad-Dīn Muhammad Rūmī, is a 13th century Sufi mystic, religious scholar, and poet. According to translator Coleman Barks in his translation ofThe Essential Rumi, Barks describes Rumi's poems as having a "startling sensual freedom in stating his union with God." Rumi's poetry was primarily written after the mysterious dissappearance of his long time friend, Shams, who Rumi mentions in some of his poems. Rumi and Shams were said to have an intensely intimate relationship, sometimes spending days in long mystical conversations.
Most people know Rumi only by the occasional lovely quotes that are sprinkled in books and articles, which is how I was first introduced to his work. However, I had started doing some research on Sufism and being intrigued with Rumi, I decided Rumi's, The Essential Rumi is a book I needed to read. The first time I read The Essential Rumi, many of the Rumi's poems made me uncomfortable. Rumi uses words in describing God's love much like a modern poet might describe a sensual relationship. It disturbed me, but it also got me thinking about our perceptions and definitions about love, especially God's love.
Later, I read The Essential Rumiagain, and this time, the poems that had earlier unsettled me, made me weep in a couple of instances. His absorption into the love of God, which is something that is indescribable in words, is done in one of the most beautiful ways a human being has ever done before or after. I think this is why those that choose to study and spend some time with Rumi, love his body of work intensely. Rumi requires that you spend time with him in his poems. The poems require an opening and softening of the heart to listen and feel the ecstasy Rumi must have felt in his relationship with God and through his poems, Rumi offers to us a way to experience this love as well.
I am going to share a few of my favorite Rumi poems and why I love them. Since many of Rumi's poems are several pages long, most of what I will be sharing is a favorite stanza or two from the named poem. I hope you enjoy them.
From – Green Ears
WHEN SOMEONE DOES NOT FEEL GRATEFUL
TO THAT, THE FORMS APPEAR TO BE AS HE FEELS.
THEY MIRROR HIS ANGER, HIS GREED, AND HIS FEAR.
MAKE PEACE WITH THE UNIVERSE. TAKE JOY IN IT.
A SLEEPER SLEEPS WHILE HIS BEDCLOTHES DRINK IN THE RIVERWATER.
THE SLEEPER DREAMS OF RUNNING AROUND
LOOKING FOR WATER AND POINTING IN THE DREAM TO MIRAGES,
"WATER! THERE! THERE!" IT'S THAT THERE!
THAT KEEPS HIM ASLEEP. IN THE FUTURE, IN THE DISTANCE,
THOSE ARE ILLUSIONS. TASTE THE HERE AND NOWOF GOD.
· Rumi tells us many times in his poems that we are the mirror to the universe, and your feelings reflect back to you. This lower stanza may be one of my very favorites of Rumi's reminding that we must not be the dreamer and must wake up to recognize and live in the present moment.
From – Moses and the Shepherd
WHEN YOU LOOK IN A MIRROR,
YOU SEE YOURSELF, NOT THE STATE OF THE MIRROR
THE FLUTE PLAYER PUT BREATH INTO A FLUTE,
AND WHO MAKES THE MUSIC?
NOT THE FLUTE.
THE FLUTE PLAYER
WHEN YOU EVENTUALLY SEE THROUGH THE VEILS OF HOW THINGS REALLY ARE,
YOU WILL KEEP SAYING AGAIN AND AGAIN, "THIS IS CERTAINLY NOT LIKE
WE THOUGHT IT WAS!"
· Rumi refers to veils often, meaning the illusions of the ego or the physical world. He profoundly reminds us of our unity to God in his poems and invite us into the wonder of life, should we allow ourselves to acknowledge it.
From – Sheikh Kharraqani and His Wretched Wife
Kharraqani knew the problem and immediately began to answer,
"Well it's not out of desire that I put up with her!
Don't think that. It's not her perfume
or bright-colored clothes. Enduring her
public disdain has made me strong and patient.
She is my practice. Nothing can be clear
without a polar opposite present. Two banners,
one black, one white, and between them
something gets settled. Between Pharaoh
and Moses, the Red Sea.
· In this stanza Rumi is reminding us that our best teachers are those that challenge us. When you can remain in the flow of the infinite, even when someone is mistreating you, then truly you are a wise mystic. This stanza also touches on the wisdom of understanding our blessedness by contrast offered to us – like you cannot see beauty without experiencing ugliness in your mind.
From – LOOKING FOR LOVE
A strange passion is moving in my head.
My heart has become a bird
which searches in the sky.
Every part of me goes in different directions.
Is it really so
that the one I love is everywhere?
· See God everywhere – but not only that, experience God as Rumi does, with passion.