Chronology
777 Yeshe Tsogyal was born in 777 CE to a princely Kharchen family. Her mother was Ge-wa Bum and her father Namkhai Yeshe.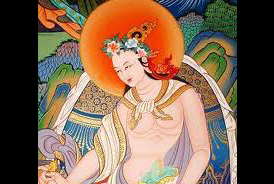 Her life as she grew into maturity was difficult. She was raped by her first suitor and later put in the harem of the Emperor. The emperor later offered her as consort to Lord Padmasambhava, a well known Buddhist master.
794 Lord Padmasambhava set her free and she became his disciple. After much pracitce she became enlightened and receiving all of the Lord Padmasambhava's teachings she became his spiritual heir. Because she had a remarkable photographic memory the entire Khadro Nying-t'ig were handed to her care.
795 She traveled to Nepal where she met Atsara Sahle, her soul mate and consort. They traveled to various hermit caves to practice meditation with the aim of reaching enlightenment. Atsara Sahle had never experienced the privations or difficulties that Yeshe Tsogyal did in her youth and so he was not so strong and left to practice where the winters were not quite so bitter.
It is said that she experienced menacing apparitions much as Bhudda did when under the Bodhi tree and the early desert Fathers like St. Anthony did in his monastic existence. She persevered in 'impartial contemplation' through it all and when this final trial before her enlightenment passed, she was left in peace.
Over the next years she continued to practice. She entered into retreat at Paro Taktsang and it was there that she gained the basic stages of Enlightenment.
796 – 805 She entered into a long solitary retreat and when she emerged she had attained Buddhahood.
It is said that "she transcended worldly existence, ascending bodily to the manifest pure field dimension of the Sacred Red Mountain, the luminous sphere of her Guru, the Lord Padmasambhava." Bibliography
Primary Sources
The Lotus Born, the earliest narrative about Padmasambhava. You can read the Table of Contents
Selections from the Terma
Two poems: You who have power, please brigh it forth now! (and) whose daughter am I?
Secondary sources
Dowman, K. Sky Dancer, the Secret Life and Songs of the Lady Yeshe Tsogyal Snow Lion Press. (you need to scroll down the page to see this)
Excerpts and biography at Bliss Queen Website of the Dharma Fellowship of His Holiness the Gyalwa Karmapa. Yeshe Tsogyal
---