by Jaclyn Trop:  The tiny Chevrolet Spark from General Motors is about as bare bones as cars come these days, with hand-crank windows, no floor mats and one of the smallest engines of any car. Air-conditioning is optional. But to the surprise of even G.M. itself, which has traditionally struggled to sell small cars, the Spark has become an unlikely hit as many American buyers warm to a car that is cheap to buy and to operate.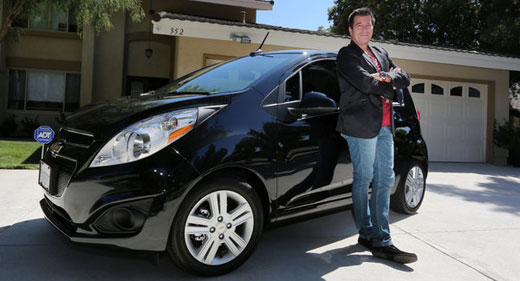 The Spark, made in South Korea, seats four, has room for groceries — and starts at $12,170, significantly less than the Fiat 500's starting price of $16,100. It's also inexpensive to run, getting about 35 miles to the gallon.
In July, sales of the Spark increased 163 percent over the previous year, its introductory month, to a record 3,847, showing that a stripped-down minicar can succeed in a market crowded with costlier rivals like the Fiat 500 that have more features and technology. Its July sales outpaced the Fiat 500's 2,821, which was a 24 percent decline from a year earlier. Through July this year, Spark sales were 21,435, behind only the Fiat 500's 23,892 among minicars.
"To me, it's an appliance," said William Wortman of Ohio City near Cleveland, who in April bought a Spark with manual transmission for his weekly 250-mile commute to his job as a toolmaker. The Spark's 1.2-liter, four-cylinder engine makes it the smallest in the Chevrolet lineup.
"It gets me back and forth," he said. "All I wanted was a radio."
Even G.M. did not expect it would resonate this way with consumers. "We're very surprised with how well the vehicle has been selling," said Cristi Landy, Chevrolet marketing director.
Beyond its cost, what separates the Spark, buyers say, is that it's the only minicar sold in the United States with four doors.
"The ability to get four adults in a minicar like that is what sells the vehicle," said Andy Lilienthal, of Portland, Ore., who has run a blog on small cars, called Subcompact Culture, since 2008.
G.M.'s decision to market a minicar like the Spark was a logical one, analysts said. With gasoline routinely topping $4 a gallon, many Americans are seeking better mileage. But automakers also need to make their fleets more efficient to meet strict new federal fuel economy standards that take effect in 2016, said Michelle Krebs, a senior analyst for Edmunds.com.
"Everybody's going in that direction," Ms. Krebs said, "but no one expected G.M. to do it as well as they have."
More broadly, minicars and subcompacts, which like the Chevrolet Sonic are slightly bigger, now make up 5.9 percent of overall vehicle sales, according to Edmunds.com. That is compared with 3.1 percent in 2007.
For the automakers, smaller cars have become a profitable niche in an area where they have often been outdone against foreign competition.
"There was skepticism in general that Detroit could not make small cars and compete with the Japanese market, but we're over that," Ms. Krebs said.
Beyond better fuel economy and cost savings, the styling and technology are helping change the perception of cars like the Spark, known as "penalty boxes" in the 1980s, implying that the driver was being punished for not affording a larger car. In the 1980s and '90s, junkyards across America quickly became littered with duds like the Yugo GV, Daihatsu Charade and Geo Metro.
"You were basically buying these slow, underpowered vehicles with the only advantage being that they were cheap," Mr. Lilienthal said.
The Spark and its competitors, including the best-selling Nissan Versa subcompact and No. 2 Kia Soul — which are slightly bigger and have four doors but cost about the same — come with features that were never included in subcompact cars, from air conditioning and power locks to Bluetooth and smartphone navigation.
Now, buyers ask themselves, "Do I need to buy a full-size sedan, or can I get away with a Nissan Versa?" Mr. Lilienthal said.
Automakers have also taken a different tack in marketing the cars, promoting them as fun to drive and easy to maneuver around the city, as well as the cost advantage.
 Brad Johnson, a minister from Thousand Oaks, Calif., paid in the mid-$12,000s for a Spark in June, and found he can pick up groceries, hang up his dry cleaning and park downtown while getting about 35 miles to the gallon.
At 53, Mr. Johnson is not the first-time car buyer Chevrolet is aiming for, but he was attracted to the car's styling nonetheless.
"It felt a little young," Mr. Johnson said, "but it fit my personality."
The Spark's early success makes the case for a new Detroit market staked on smaller, fuel-efficient cars, analysts said.
"You can make a good quality minicar now whereas before I don't think U.S. consumers would have accepted a car that's sold in India or Thailand," said Terry Rhadigan, G.M.'s executive director for product and technology communications.
It's also less risky for automakers like G.M. to introduce smaller cars in America as they become adept at adjusting the models that are popular in other regions of the world, said Joseph Spak, an analyst with RBC Capital Markets.
But Mr. Spak said he was skeptical that demand from American consumers for subcompact and mini models had much room to grow as larger vehicles become more fuel-efficient. Despite the interest in small cars, it is trucks and utility vehicles that are fueling Detroit's resurgence.
"Over the years, you've definitely seen some consumers move down to smaller cars," he said, "but the challenge for subcompacts is that you're seeing the fuel economy of other segments increasing."
Whether more manufacturers will produce four-door minicars to compete with the Spark is unclear. Smaller cars mean smaller profit margins, but the Spark is made in Korea and can compete on price. Analysts say it's not clear if small cars can be made profitably in the United States, though G.M. is experimenting with the Chevrolet Sonic, its first United States-produced subcompact, made in Orion Township, Mich.
G.M.'s crosstown rivals say that their small cars are selling quickly, too. Ford Motor, whose sales in the segment dropped to a low in 2009, reported last month that its small car sales were the best in 13 years.
Chrysler's year-old Dodge Dart compact car was a bright spot in the automaker's July sales, with sales up eightfold to 6,064.
With a quarter of buyers under 35, the Spark is crucial to attracting younger drivers who are critical to G.M.'s longevity, analysts said. About 60 percent of Spark buyers are new to the Chevrolet brand.
"The under-35's is a huge population that everybody wants to get," Ms. Krebs said. "Once you get them, you have an opportunity to keep them."
Marketing to this group meant that Chevrolet avoided television spots in favor of social media networks and events popular with the millennial generation.
"We're getting out where they're having fun," Ms. Landy said. "We know a lot of these younger buyers are not watching TV."