by Sonnet Lauberth: I remember the day I finally admitted to myself that I was lactose intolerant.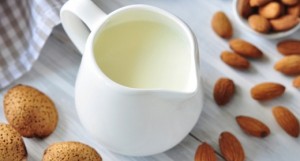 It was my second quarter of college, and I was sitting in a giant lecture hall drinking my tall non-fat latte when that familiar stomachache started. It was the same stomachache I had gotten the week earlier when I'd eaten ice cream, and the same stomachache I'd experienced earlier that day when I was enjoying dairy milk in my cereal at breakfast. Ugh.
This was many years ago, and at that time there wasn't the variety of non-dairy milk options that line grocery store shelves today. I knew that soy milk was an easy substitution, so I made the switch and my body was much happier. Well, that was until several years later, when I began to notice that my body was having reactions to soy as well. Then it was time to get creative.
Over the years I have found a variety of ways to replace dairy in my kitchen while using whole foods and real ingredients. Here are my top 3 easy substitutions for dairy:
1. Use homemade coconut milk sour cream instead of dairy-based sour cream.
I discovered this switch earlier this year, and it's changed my life.
To make coconut sour cream: mix 1 cup of full-fat canned coconut milk with 2 tablespoons of white vinegar. Mix well, then let sit in the refrigerator for at least 30 minutes to thicken up a bit. Serve over your favorite Mexican entrée.
2. Use a vegetable puree instead of heavy cream in sauces.
In a pinch, full-fat canned coconut milk makes a great swap for heavy cream in sauces, but I really enjoy pureeing vegetables into my sauces, which helps to thicken them while adding extra flavor and nutrients. My favorite puree involves blending steamed sweet potatoes or cauliflower with a little broth to make a thick sauce, then incorporating this into recipes in place of heavy cream.
3. Use a nut-based cheese instead of dairy cheese.
Nuts make a fabulous mock-cheese that can be used as a spread, dip, or creamy topping on any recipe. Here is my favorite recipe that requires less than five minutes of hands-on prep!
Non-Dairy Nut Cheese
Makes ½ cup
Ingredients:
1 cup raw, unsalted nuts
⅓ cup nutritional yeast
¼ teaspoon sea salt (or more to taste)
⅓ cup water (or more as necessary)
Directions:
Add nuts to a glass jar or container and cover with water. Let soak for at least 30 minutes and up to several hours.
Drain nuts and discard the soaking water. Add nuts to a food processor along with the nutritional yeast, salt, and water.
Puree, scraping down the sides of the food processor as necessary, until the cheese is a smooth, creamy consistency.
Depending on desired consistency and the length of soaking time, additional water can be added as needed.
Store in the refrigerator and use within 5 days.
What are your favorite substitutions for dairy in your kitchen?