by William L. Watts:  Hedge-fund king Ray Dalio says that the average retail investor should stop thinking about trying to beat the pros, i.e. him,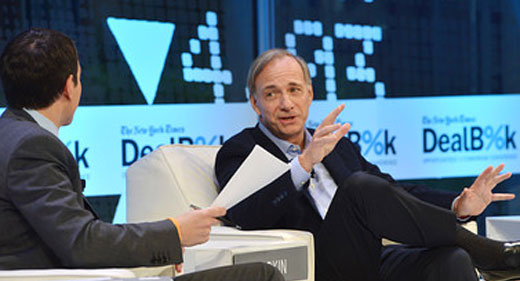 and focus on balancing his portfolio while getting used to a world in which the Federal Reserve is going to maintain ultra-low interest rates and annual stock returns are going to come in at around 4% for years to come.
Also, try meditation.
Speaking at the Dealbook Conference in New York, Dalio said all investors are wrestling with what to do in an environment where the Federal Reserve's monetary stimulus efforts have helped push all assets to "high levels." He sees equities returning 4% annually for the next several years–that's not great, but not bad relative to a bond or, certainly, cash. But as returns are squeezed lower, investors must make choices among those low-returning assets.
"I think the most important thing for an investor is to create a proper balance of those investments," he said. "In other words, I think that going forward, most investors are not going to be able to produce alpha," a measure of outperformance.
"Alpha is a zero sum. We have 1,500 people who work there with computers doing all sorts of work and it's the pros against that," Dalio said. "I would say most investors should hold a balanced portfolio against that."
Dalio, who released one of his famous notes over the weekend, reiterated his observation that the Fed's asset-buying efforts are likely to lose their effectiveness as the wealth effect pushes up asset prices and any trickle-down to the rest of the economy slows. He also said that he wouldn't invest in bitcoins because he feels like needs to "understand them better," and warned that rising debt levels in France were worth keeping an eye on.
No. 31 on the Forbes 400 list of the richest Americans with a net worth estimated at just shy of $13 billion, Dalio credited meditation with playing a big role in his success as an investor.
He told conference host Andrew Ross Sorkin that it's a "simple exercise [that] lets you clear your head and brings an equanimity to everything." Dalio said that around a third of the time he manages to meditate twice a day in 20-minute sessions. A third of the time he fits in one session a day and a third of the time he doesn't meditate at all.
"It's such a great investment. I'd say that more than any other factor having any effect on my success, it's been meditation," he said.
– William L. Watts
Follow William on Twitter @wlwatts
Follow The Tell @thetellblog