by
Marcia Dick
: Forty-eight Jewish women have found a new way to prepare for Hanukkah this year: meditative yoga.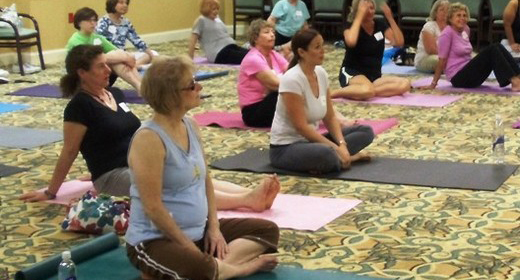 The Lappin Foundation of Salem offers programs it hopes will promote Jewish identity across generations while also fostering community. This year, it is debuting a class called, "Movement for Your Jewish Soul," a yoga session held four times a year, one for each of the major Jewish holidays: The High Holidays, Hanukkah, Passover and Shavuot. The Hanukkah session will be held Monday, Nov. 18. 7:00-8:30 p.m. at the Aviv Centers for Living in Peabody.
The goal, according to the foundation's executive director Debbie Coltin, is to engage participants in a multi-sensory experience that will help immerse them in the essence of Jewish holidays and strengthen their physical and spiritual links to them.
"I believe the mind-body connection fuels our faith and our faith feeds that mind-body connection," said Coltin, 56, of Peabody. "I thought of how much richer our holiday celebrations could be by strengthening these connections."
The idea for the yoga program originated as an extension of another program called "Breakfast for Your Jewish Soul," which focuses on the same mind-body concept using food.  
Though the first session for the High Holidays has already passed, people can still enroll for the three remaining sessions. The classes are free and open to all, including men and teens. Coltin said she hopes to launch a yoga program specifically for teens next year.
The instructor, Ariela HaLevi, 41, of Swampscott has been doing yoga for 20 years and teaching it for five. She designed the sessions herself, making each specifically relevant to its corresponding holiday.
As a rabbi's wife, HaLevi said she has been studying Judaism for about 12 years. She is adamant about using the body as an essential part of prayer.
"I believe Judaism teaches us to incorporate body, mind and soul," she said. "It is my feeling that yoga is a just another form of prayer and something we are meant to do."
The classes begin and end with a Jewish meditation accompanied by Hanukkah themed music. The movement includes standing poses, heart opening poses and shoulder opening poses which HaLevi said are supposed to help participants bring light into their lives.
Ruth Budelmann, 60, of Beverly participated in the High Holidays yoga and will be attending the Hanukkah session as well. She said that she, along with many others, has very little yoga experience, but that HaLevi makes the class easy for people of all levels.
"It is a really lovely spiritual experience," she said. "The spiritual component makes it so peaceful and gets you in the right mindset for the next holiday."
For more information, contact Phyllis Osher at posher@lappinfoundation.org or 978-740-4404.