by Shana Lebowitz:  There are 364 new emails in the inbox, those new pants are covered in scalding coffee, and the next conference call starts in exactly five minutes.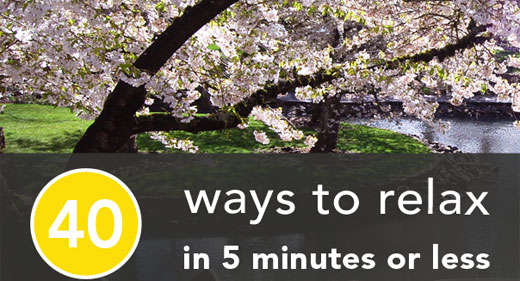 In other words, it's the perfect time to relax. When we're feeling frazzled, a weekend at a beach resort might be just the thing to calm our nerves. But there isn't always time for tanning, let alone sleeping, eating, or going to the bathroom.
Luckily, we've rounded up 40 ways to relieve stress in just five minutes or less. From sipping tea to trying some pranayama breathing, all these tactics can create calm during tough times.
Food and Drink
Photo: Rob Knight
Inner Peace
Photo by Jordan Shakeshaft
Total Body Relaxation
Photo: Patrick Gage Kelley
New Environment
Photo: Colin Orcutt
Exercise
Photo by Colin Gould
Entertainment and Creativity
Smells
Photo: Chris LaCour
Socializing and Fun
What's your favorite way to relax quickly? Share your secrets in the comments below!