by Pete Danko:  For the first time, California's utility-scale solar power production has topped 3,000 megawatts (or, if you prefer, 3 gigawatts).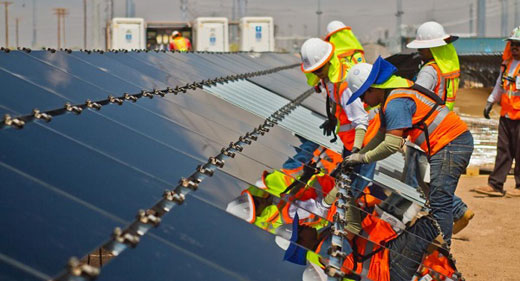 The California Independent System Operator, which oversees the grid for much of the state, tweeted that solar generation hit a record 3,048 MW at 12:02 p.m. on Thursday.
To put 3,000 MW in perspective, the average coal-fired unit in the United States in 2011 could generate 228 MW of power, according to the Energy Information Administration – so at noon on Thursday, California's solar farms were doing the work of about 13 such units.
What's remarkable about the figure is that exactly one year earlier, on Jan. 2, 2013, the state had also set a record – 1,235 MW. That means that in a single year, peak utility-scale solar power production in California has risen nearly 150 percent.
What's behind the increase?
Several big solar plants have been added in recent months in California – led by the 250-megawatt California Valley Solar Ranch in San Luis Obispo County, Calif. The pace of growth doesn't figure to slow much in the foreseeable future, either. Big as California Valley Solar Ranch is, it will soon be dwarfed by other California plants: the 550-megawatt Topaz project and the 579-megawatt Solar Star Projects (previously known as Antelope Valley Solar Projects), about an hour north of Los Angeles, are under construction now.
As for winter's effect on solar, while the days are shorter (and sometimes cloudy), if it's sunny, the big arrays – many of which come with tracking systems – work just fine. In fact, photovoltaics work more efficiently in cool, sunny weather than in hot, sunny weather. First Solar says that its thin-film modules lose 10 percent of their output at very high temperatures, while traditional crystalline silicon PV fares even worse, with output falling off by 20 percent.
One final point: We always need to point out that the California ISO solar production figures are for wholesale solar only. California also has nearly 2,000 MW of solar behind meters – on the roofs of businesses and homes all over the state – that isn't included in that 3,048 MW figure.