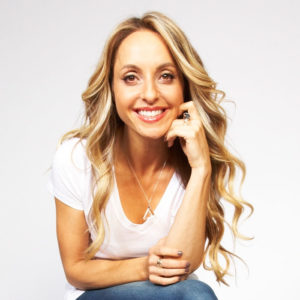 Home Base
New York City, New York USA
Foundation of Teaching
Self-Love, Meditation, Yoga, Miracles
Example of Teaching
"When we fulfill our function, which is to truly love ourselves and share love with others, then true happiness sets in."
Total Views: 12,893
Gabrielle Bernstein
Gabrielle is the New York Times best-selling author of May Cause Miracles. She appears regularly as an expert on NBC's Today Show, has been featured on Oprah's Super Soul Sunday as a next-generation thought leader, and was named "a new role model" by the New York Times. She is also the author of the books Add More ~ing to Your Life, Spirit Junkie, Miracles Now, The Universe Has Your Back: Transform Fear to Faith, and most recently, Super Attractor: Methods for Manifesting a Life Beyond Your Wildest Dreams. Gabrielle is also the founder HerFuture.com, a social networking site for women to inspire, empower and connect.
Gabrielle is a motivational speaker, life coach, and author. She grew up in New York and attended Syracuse University, where she received a degree in theater. Bernstein has also worked as a public relations entrepreneur and founded the PR firm SparkPlug Communications as well as co-founding the Women's Entrepreneurial Network, a non-profit professional organization that connects female entrepreneurs.

Bernstein teaches primarily from the metaphysical text A Course In Miracles. She teaches a practical application of the Course's principles emphasizing self-love, forgiveness, and a holistic approach to spirituality. In 2009, Bernstein was featured in the New York Times as a "guru" for the next generation.
YouTube chose Gabrielle as one of its 16 YouTube Next Video Bloggers. Mashable Mashable included her in its list of 11 Must-Follow Twitter Accounts for Inspiration. Forbes called her one of the 20 Best-Branded Women. Gabrielle has a weekly radio show every Wednesday on Hay House Radio and is a featured curator for the online marketplace OpenSky. She is a regular guest on the Today Show and has contributed to or been featured in media outlets such as The New York Times Sunday Styles section, ELLE, Oprah Radio, Anderson Live, Access Hollywood, Marie Claire, Health, SELF, Women's Health, Glamour, The New York Times Thursday Styles section, Sunday Times UK, US Weekly, People, CNN, Fox & Friends, PBS, Wall Street Journal, Sirius Satellite Radio, and many more. Gabrielle has also been on the covers of Experience Life and Self-Made magazines; in the latter, she was named one of the top 50 women in business. Gabrielle is a regular contributor to Metro and The Huffington Post.
Gabrielle is a member of the advisory board for New York University's Of Many Institute for Multifaith Leadership and Feminist.com's "Our Inner Lives" religion and spirituality project.
Quotes
"Worry is a prayer to chaos."
"I am willing to see things differently. I am willing to see love."
"I am willing to witness my fears."
"When we fulfill our function, which is to truly love ourselves and share love with others, then true happiness sets in."
"It's time to let go, be guided and expect miracles."
"The key to serenity is trusting that the universe has your back."
"My joy shines brightly and it inspires others to be cheerful themselves."
Read More Quotes >>>