by Lauren Craig:  The "nameplate" power rating for photovoltaic (PV) modules (i.e., what defines a 200-watt or 210-watt solar panel) is determined by a series of laboratory tests under standard test conditions (STC).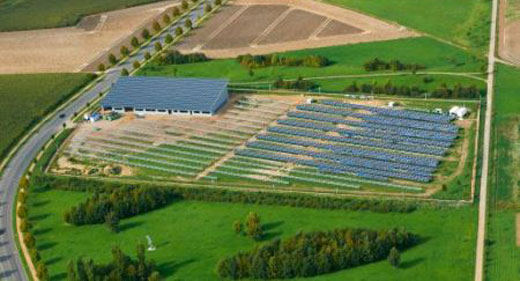 But while the amount of power produced by a module at 25 degrees Celsius and exposed to a fixed amount of solar irradiation can give solar engineers an idea of what to expect from a module, it does not reflect how much power it will produce once subjected to high temperatures, rain, shading, dirt and other real-world factors. This is the role of Photon Laboratory's field performance test.
This test, performed over the course of a year at Photon's test site in Aachen, Germany, uses scientific methodology to compare international solar module brands over the course of several years, during different seasons and in different light conditions. Since 2005, the Photon Field Performance Test, performed by the Photon Group—publishers of the industry magazine Photon—has tested over 130 module types, including industry leaders like SolarWorld, SunTech, Sharp, Kyocera and Canadian Solar.
This year's top-ranking manufacturer was Renewable Energy Corporation (REC), whose polycrystalline modules yielded 6 percent more energy than 45 competing modules, including mono-crystalline and thin-film modules. The REC modules achieved the highest performance ratio (the actual amount of solar power produced by a module in comparison to the maximum possible power output), at 90.8 percent. And it had the highest energy yield, 1,150.4 kilowatt-hours (kWh) per rated kilowatt (kW).
The company touts its modules' ability to deliver more watts per square meter, due to design improvements that improve electrical flow between the cell and metal conductors. It also says that its manufacturing process uses 80-90 percent less energy than traditional manufacturing processes. NexPower, Siliken, CH Solar and CHG PV Tech rounded out this year's top five. REC's modules also came in second place in 2010. A PDF showing the entire 2011 results is available online.
According to Luc Graré, REC's senior vice president of sales and marketing for cells and Modules, "This award confirms that REC leads the industry in delivering quality, high-performing modules and demonstrates our commitment to quality and efficiency. This is great news for REC and for our partners and customers," he said.
REC, founded in Norway in 1996, is a vertically-integrated company employing more than 3,900 people worldwide. In addition to manufacturing PV modules, REC is also one of the world's largest producers of polysilicon wafers and solar cells. The company's silicon materials are manufactured in Moses Lake, WA and Butte, MT. It's cells, wafers and modules are manufactured in Singapore. The company has also begun branching out into project development and integration in Germany, Spain and the U.S.