by Julian Sonny:  The Seattle Seahawks are undoubtedly the most poppin' team in the NFL today. They have the cool west coast coach, a swag star for a quarterback, some fresh-ass uniforms and some of the rowdiest fans in the league.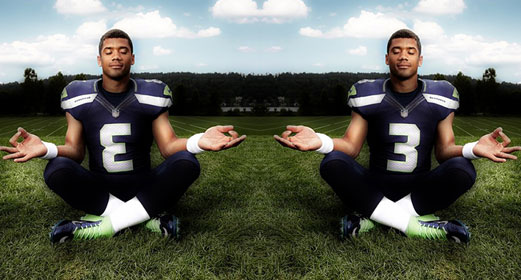 But there is, of course, more than meets the eye. The Seahawks have one of the most intimidating defenses in the NFL, with one of the most prolific secondaries who makes life impossible for guys like Colin Kaepernick. But it's more than just great coaching and personnel that makes this team so great; it's the preparation.
Some of these notable Seahawks techniques have been revealed, after it was published in a recent edition of ESPN The Magazine that players are all mandated to meditate and do yoga. Head coach Pete Carroll admitted that his guys are all required to take a class. This, of course, goes hand-in-hand with the meditation, which all of the players also do.
"I wanted to find out if we went to the NFL and really took care of guys, really cared about each and every individual, what would happen?" he told ESPN.
Carroll's approach of positive thinking for the body and mind has surely paid off so far, as players are relaxed as ever heading into big match ups, such as last weekend's game against the 49ers. Offensive tackle Russell Okung raves about the program Pete has in place, saying that medidating is now one of the most vital parts of his training.
"Meditation is as important as lifting weights and being out here on the field for practice," Okung said. "It's about quieting your mind and getting into certain states where everything outside of you doesn't matter in that moment. There are so many things telling you that you can't do something, but you take those thoughts captive, take power over them and change them."
For more athletes who do yoga to take their game to the next level, check out this article here.
via ESPN, Photo Credit: Peter Yang for ESPN