By Clean Technia: While EV sales still make up a small slice of the overall market, they are actually selling at a faster pace than the first generaton of hybrid cars…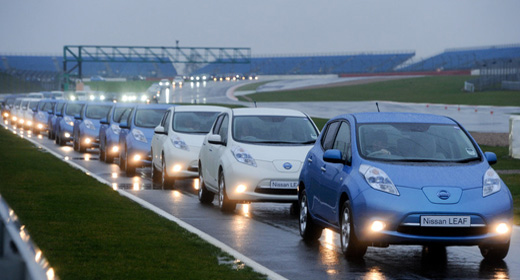 A new report from IHS Automotive shows that when you put the first three years of EV sales side by side with the first three years of hybrid sales, electric cars are actually doing remarkably well.
IHS specifically cites four-year sales of the first generation Toyota Prius, which they claim had sold a culmative total of 52,000. I turned to Wikipedia for Prius sales numbers, and I can't exactly make the numbers work. In 2003, four years after the introduction of the Prius, worldwide sales totaled about 43,000 units, at least according to Wikipedia.
The Nissan Leaf, meanwhile, has sold more than 100,000 units worldwide since it debuted in late 2010, and the Chevy Volt/Ampera have eclipse 70,000 units. Regardless of what numbers you go by, EVs are finding a faster adoption rate than hybrids initially did, though it must be mentioned that EVs also benefit from more generous government subsidies. Meanwhile, the Tesla Model S is on pace to pass 50,000 sales by the end of the year, just over two years into full-scale production.
If EVs keep this momentum up, it won't be long before they start to make up an increasingly large slice of annual sales. Automakers who refuse to commit to pure electric vehicles risk being left behind in a lucrative market segment, the same way many are struggling to come up with a competitor to the Toyota Prius, a car many wrote off as a fad or niche product. Last year, Toyota passed the 3 million mark with the Prius, which is now one of the best-selling vehicles.
It isn't just hybrids that EV sales are outpacing though; the adoption rate for electric vehicles actually outpaces the adoption rate of automobiles in general.
The lesson here for automakers is clear; if you're not on board the EV hype train, time is running out.
Source: IHS Automotive
Official Release
Electric Car Sales are Stronger than They Might Seem, According to IHS Automotive
SOUTHFIELD, Mich. (May 15, 2014) – Despite falling short of previous expectations, global sales of electric vehicles (EVs) actually are progressing at a much faster pace than hybrid cars did during the same stage of their deployment, paving the way for higher demand as more EV options arrive on the market this year and beyond.
During the fourth year after its introduction in 2000, the original hybrid-Toyota's Prius-attained cumulative sales of more than 52,000, according to IHS Automotive, part of IHS Inc.(NYSE: IHS). In the fourth year after its introduction, in 2013, cumulative sales of the Nissan Leaf EV approached 100,000. For the Chevrolet Volt/Ampera plug-in hybrid electric vehicle (PHEV), cumulative sales during the same period were almost 70,000.
Altogether, the Leaf and Volt/Ampera saw more than three times the cumulative sales total for the Prius in the fourth year after introduction, as presented in the attached figure. "We're still in the early stages of the EV market," said Ben Scott, analyst for IHS Automotive.
"Most EV drivers still own their first-generation electric vehicles. Furthermore, there have been insufficient product offerings to effectively legitimize the market and show to consumers that EVs and plug-in hybrid electric vehicles (PHEVs) represent the way of the future. However, with EV adoption exceeding the historical precedent of hybrids, this means that the trend toward EVs is still progressing, although at a slower rate than many had expected."
It's true that legislation and incentives have inflated the relative sales of EVs, given that there were no such inducements available during the launch of the Toyota Prius. However, EV sales growth remains impressive compared to the Prius, which now is regarded as a successful vehicle line.
These findings are contained in the new report entitled "Grid-Connected Vehicles" from IHS Automotive.
Traffic Jam on Electric Avenue
"The original high expectations for EV sales were driven by ambitious climate-change targets in various regions," Scott said. "Meeting these goals would require full de-carbonization of the vehicle fleet in some countries, which could only be achieved through full electrification. However, the understanding of the time scales on exactly when full electrification will happen has changed as sales have fallen short of the optimistic outlooks."
EVs Charge Up
Despite this, there have been some more positive moves in the industry both in terms of vehicles on the road and EV/PHEV availability.
Tesla's Model S has sold remarkably well in the United States, proving that consumers will pay for a premium electric sedan. The BMW i3 went on the road at the end of 2013, occupying the small urban car segment, alongside the VW e-up! and Smart Fortwo electric drive.
The archetypal compact car, the VW Golf, will be available in a purely electric form later this year; the VW e-Golf. Also available in 2014 will be the plug-in hybrids VW Golf GTE and Audi A3 e-tron.
Ford's C-Max Energi will be offered in Europe in 2014, cementing its place in the plug-in hybrid multipurpose vehicle (MPV) segment. This year there are more than 100 PHEVs/EVs available in production globally to consumers.
"The increasing variety of EVs and PHEVs is encouraging for the market, but there still needs to be more of these vehicles available to reach parity with internal combustion engine cars," Scott explained.
Plug-in hybrids accelerate
While the all-electric Leaf currently outsells the PHEV Volt/Ampera, this situation will change in the future. Until recently there have not been many PHEVs available, but 2014 will be an important year as more of these vehicles enter the market.
"Motorists like the safety and freedom to travel for longer distances without being constrained by charging intervals, which is why PHEVs are a good alternative," Scott said. "IHS Automotive predicts that by 2020, global production of PHEVs will exceed EVs by a ratio of 55:45. PHEVs could be a critical stepping stone to pure electrification of the powertrain in the years following the year 2020."
Source: Clean Technica