by Kiley Kroh: Washington, DC's Circulator, red buses that run on a few routes throughout the city,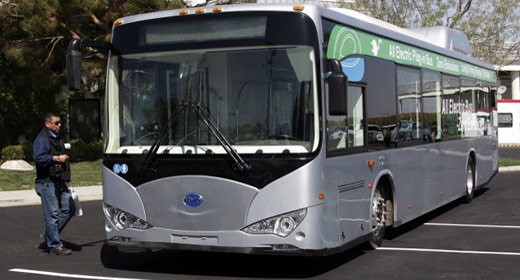 came to the nation's capital in 2003 and as the first vehicles near the end of their operating life, the city is looking for a more sustainable alternative.  Thanks to recent technological advancements, there are a lot more options this time around. "Electric has not been a viable option in previous procurements, but now it is," Will Handsfield, transportation director with the Georgetown Business Improvement District (BID), told ThinkProgress.
Among the benefits of transitioning to from diesel to electric buses, Handsfield said chief is sustainability. "The one that intrigues me the most, as someone who drives, walks, bikes, is air quality," he said. Specifically, "ground-level air quality is really important."
And it isn't just environmental sustainability that's so appealing — Handsfield said electric buses also make sense from an economic perspective. "From a cost standpoint there's some real promise from electrics," he said. "When you buy a diesel bus you know you're going to be buying that fuel for about 10 to 12 years." Handsfield pointed out that the cost of diesel fuel is extremely volatile, while electricity prices are much more stable.
The various stakeholders, including BID, recently invited Proterra, the maker of a 77-passenger all-electric bus, to come to DC and showcase their vehicle. Dale Hill, the company's founder, told the Washington Post that the battery-run bus can operate continuously for 24 hours. Fully charged, the bus can run for three hours, and stops along its route to recharge while passengers load and unload.
BYD, another front-runner to replace the DC Circulator fleet, says its electric bus "meets [roughly] 80 percent of urban transit needs with typical range of 155+ miles." BYD recently opened its first U.S. electric bus factory in Lancaster, California and said its long-range buses can operate for 24 hours on a single charge.
Cities around the world are turning to the quiet, emissions-free buses to meet their growing transit demands. Ahead of the recent World Cup, Brazil introduced a 60-foot electric bus to Sao Paolo's already diverse fleet, which includes buses running on biodiesel and ethanol, as well as electric trolleybuses.
The Netherlands is pioneering regenerative braking technology that will capture the energy from train brakes and use it to power the entire fleet of buses in the city of Apeldoorn. "Right now we are setting 37 liters of fuel on fire in exchange for every 100 kilometers by bus, and paying dearly for it." engineer and inventor Arjan Heinen told ThinkProgress. "And right next door to the bus terminal, we have all of this perfectly good energy just heating up the tracks."
Here in the U.S., Reno, Nevada recently introduced four new electric buses to its fleet, which includes 18 hybrid-diesel electric vehicles. A spokesman for the city's Regional Transportation Commission told the Reno Gazette-Journal that the buses, which are also in use in Stockton and Pomona, California, offer "the lowest carbon footprint of any bus on the road … [and] have a life cycle of 16 years, versus 12 years for a traditional bus."
Worcester, Massachusetts' six Proterra electric buses will each emit 130 fewer tons of carbon dioxide emissions per year, compared to the diesel alternative, and will reduce operating costs by $3 million over a 12-year span.
While the cost of all-electric buses can be steep, around $1 million per bus, ClimateProgress' Ari Phillips noted in March that the savings can be significant: Vancouver-based GreenPower Motor Company is "in the final stages of producing an all-electric city transit bus, the EV350, that it says will save transit bus operators between $50,000 – $100,000 a year compared to a traditional diesel bus, based on maintenance, operations and fuel."
And Proterra's Hill told the Washington Post that while their buses are about twice the cost of a diesel model, "once you factor in fuel savings and reduced maintenance, the bottom line is about the same."
Handsfield said DC is currently looking at natural gas, diesel hybrid, and even fuel cell technology, if it's available, to replace the aging Circulators. The main goal is to bring top-of-the-line vehicles to Washington. "The other thing about sustainability is developing ridership," he said. "Getting people who wouldn't normally ride a bus to ride a bus."
Source: Think Progress