Last night Nevada Governor Brian Sandoval joined Tesla CEO Elon Musk in officially announcing a $1.2 billion incentive package for the Gigafactory.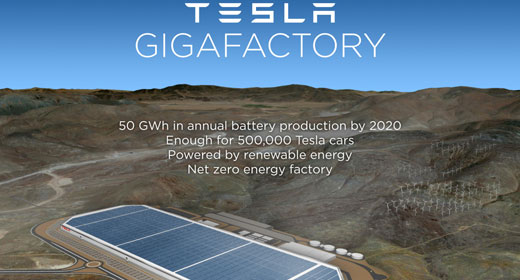 The Reno-Gazette Journal reports that the incentive package essentially lets Tesla operate tax-free in the state for the next ten years.
The incentives include a 20-year sales tax abatement worth an estimated $725 million, a 10-year property tax abatement worth another $332 million which make up a bulk of the package. There's also $195 million worth of transferable tax credit, a $27 million business tax abatement for ten years, and $8 million in discounted electricity rates. All told this package adds up to about $1.2 billion that Tesla doesn't have to pay over the next decade.
This huge incentive package isn't even the largest package to be offered, according to Elon Musk, who told the Reno-Gazette Journal that "This is not just about incentives." Indeed, Musk has made it clear that the tight timeline for the Gigafactory's construction is a major component of the location selection. Nevada seems to have cleared enough bureaucratic red tape for Tesla to want to build there though; meanwhile California failed to vote on an incentive package designed to lure the Gigafactory to the Golden State.
So it is, and isn't about the incentives if you ask me.
In return for this generous state welfare, Tesla has promised to bring 6,500 jobs to the Reno area, and promises to invest $3.5 billion in manufacturing equipment and property, though the Gigafactory price tag has been pegged as high as $6 billion. The Reno-Sparks area where the Gigafactory will be built is expected to see a 20% increase in economic output, while entire state. In addition to the 6,500 direct jobs Tesla will create, a total of 22,000 gigs are expected to pop up as a result of the additional economic activity. Musk hopes the Gigafactory can reduce battery pack costs by at least 30%, and could even bring the cost down to $100 a kWh, where EVs can achieve price parity with conventional cars.
Nevada was considered to be a front-runner from the beginning, and Reno has recently built a reputation as a start-up friendly city. It's a great fit for Tesla, and as an added bonus it's just three hours away from the Tesla factory in Fremont, California. Reno is about to see an influx of eager job seekers, and even your intrepid writer here is considering an extended trip to the Biggest Little City in the World.
Source:  GAS2