by Peter Diamandis:  Earlier this week, President Bill Clinton interviewed me about "moonshots" and "abundance."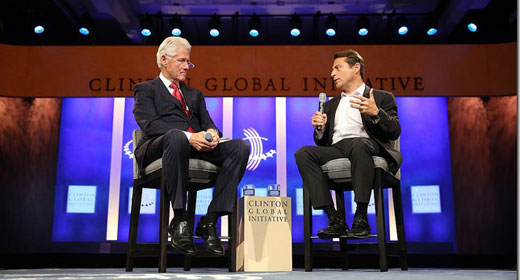 I was honored to share the stage with him for the closing session of the Clinton Global Initiative (CGI).
I had no idea he was a fan of Abundance, but he had clearly consumed the book and quoted from his dog-eared copy.
Leadership (whether you are the U.S. President, an entrepreneur or a CEO) is all about mindset… specifically scarcity vs. abundance and linear vs. exponential.
This blog is about the difference.
Scarcity vs. Abundance; Linear vs. Exponential Mindset               
As I teach at my mastermind ( Abundance 360), a scarcity and linear mindset is destructive and self-limiting.
Unfortunately, most people think in terms of scarcity, and linear growth.
They see "limitations," rather than "possibilities."
They forget that the world's biggest problems are the world's biggest business opportunities.
They see linear projections in a world where technology is exploding exponentially.
They forget that a Maasai Warrior on a smartphone today has access to more information than President Clinton had only 20 years ago (BTW, I loved saying that directly to President Clinton — I think it caught him off-guard, but he agreed).
The Mental Game
Every innovator I talk to emphasizes the importance of the mental game, arguing that without the right mindset, entrepreneurs have absolutely no chance of success. 
I couldn't agree more. Mindset is everything. Whether you think you can or think you can't — well, you're right.
Most of our great entrepreneurial leaders today are people who have created world-changing industries where none had existed before. 
Most of them accomplished this feat by solving problems that had long been considered unsolvable. 
Taken together, they are a group whose track record showed that one of the better responses to the threat of scarcity is not to try to slice our pie thinner; rather, it's to figure out how to make more pies.
Or as Larry Page famously said in his I/O 2013 keynote: "Being negative is not how we make progress."
This is not a passing sentiment for Larry, it's a core philosophy. "I'm tremendously optimistic," says Page. "I'm certain that whatever challenges we take on, we can solve with a little bit of concerted effort and some good technology. And that's an exciting place to be. [It means] our job is really to make the world better. We need more people working on this. We need to have more ambitious goals. The world has enough resources to provide a good quality of life for everyone. We have enough raw materials. We need to get better organized and move a lot faster."  
How to Think Exponentially & Abundantly
There are many important elements to setting your mindset.  Here are just a few to consider:
Change your environment — Surround yourself with people who have an Abundance mindset. Work in places that reinforce exponential thinking. Your environment shapes your mindset and it is critically important.
Have a Massively Transformative Purpose (MTP): What is your mission and your purpose? Why are you on this planet?  My MTP is to empower entrepreneurs to create extraordinary wealth while creating a world of Abundance. What's yours?
Don't watch the news.  Take a media diet.  Our brain pays 10 times more attention to negative news (an evolutionary attribute that kept us alive thousands of years ago). Today the news media abuses this… they are a drug pusher and negative news is their drug.  Choose how and where you get your news feed. Proactively seek it out instead of being fed every murder, in HD, over and over again.  Let the data do the talking, and allow yourself to opt for abundance.
Continuous education on Accelerating Technologies and Mindset. With the time you save giving up the nightly news, find sources to educate yourself on the exploding technology world. Go to Singularity University, read blogs and/or take some online courses. 
FYI, every January I coach a group of leaders, executives and entrepreneurs through my Abundance 360 Mastermind. If you are ready to learn how to develop an abundance mindset, how to create your moonshot and how to build an exponential organization, apply here.
We live in the most exciting time ever.
Let's create a world of Abundance.
All the best,
Peter
P.S. Every weekend I send out a "Tech Blog" like this one. If you want to sign up, go to www.PeterDiamandis.com and sign up for this and my Abundance blogs.