By Michael Graham Richard: Net zero energy, powered by renewables…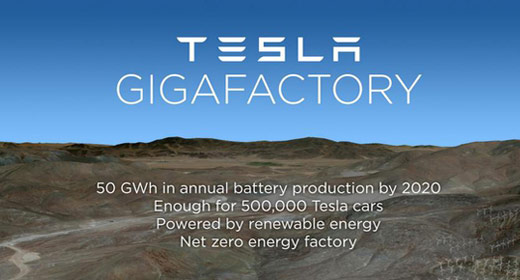 As predicted yesterday, Tesla and the Neveda governor have confirmed that the gigantic battery Gigafactory that will make enough battery cells to power 500,000 electric vehicles per year will be located in Nevada. Governor Brian Sandoval and Elon Musk made the joint announcement, with the Governor saying that this investment in his state represents "nearly one hundred billion dollars in economic impact to the Silver State over the next twenty years" and that he called Tesla and Musk "21st century pioneers, fueled with innovation and desire" (how poetic).
Musk, in turn, said that the "Gigafactory is an important step in advancing the cause of sustainable transportation and will enable the mass production of compelling electric vehicles for decades to come."
There are a few interesting things that came out of the announcement. One is this new rendering (above) of what the Gigafactory should look like. Compare to the one below, from a slide published when the Gigafactory was first unveiled, and you can immediately see the difference. Rather than put solar panels on the ground, almost every inch of the roof will be covered in solar panels, which is a much better use of space and a good way to minimize the factory's impact on its surroundings. There are still wind turbines nearby, and slide makes it clear that the Gigafactory will be powered by renewable energy and "net zero energy" (meaning that it won't be off-grid and might take power from the grid when the sun isn't shining and the wind isn't blowing, but on average it'll produce as much energy as it uses).
Here's the previous rendering:
Tesla/Screen capture
It is estimated that on top of the approximately 6,500 jobs created by the factory, there will be an additional 16,000 indirect jobs in the community, for a total of more than 22,000 jobs. "Viewed another way, the Gigafactory will increase state employment by approximately 2%, and regional employment by more than 10%."
Other Giga-stats for the project:
Approximately $100,000,000,000 in economic impact over 20 years
6,500 direct jobs on-site with an average wage in excess of $25 per hour and full benefit package
$5 billion initial investment in facility within 3-5 years: ($1 billion in building, $4 billion in equipment)
An additional $5 billion in planned replacement equipment over a subsequent 10 year period, or a total investment of $10 billion
Peak construction employment of more than 3,000 construction and installation workers over a three year period
Expansion of USA Parkway to connect Highway 50 to Interstate 80
Tesla will make a direct contribution to K-12 education of $37.5 million beginning in August 2018
Tesla will commit to grant $1 million to fund advanced battery research at UNLV
Tesla will prioritize the employment of Nevadans and Veterans
Here's the timeline for construction:
Tesla/Screen capture
Tesla/Screen capture
As you can see above, the goal is for the Gigafactory alone to make as much lithium-ion cells when fully operation as the whole world is producing right now, thus driving big economies of scale and lowering costs by around 30%.
Source: Tree Hugger