by Madison Kotack: Drug use, crime, counterculture: these are just a few of the topics covered in Valley Uprising, a film released this month by Sender Films…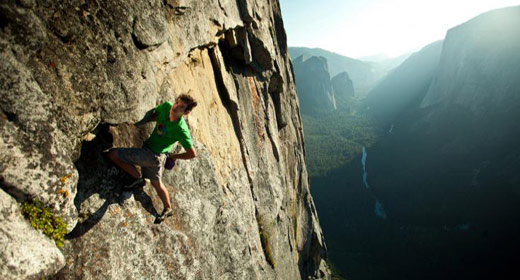 Directors Nick Rosen and Pete Mortimer tell the story of Yosemite through the eyes of its pioneers, philosophers, rebels, pirates, rock stars, and monkeys –- we're talking about rock climbers.
Just in time for Yosemite's 150th birthday, Valley Uprising portrays the respective histories of rock climbing and Yosemite as inextricably intertwined and ultimately sustained by the "mad to live" counterculture of each new generation. It shows the evolution of rock climbing into an alternative lifestyle versus an extreme sport, with Yosemite forever at the heart.
Make no mistake, Valley Uprising is more of a "half-bullshit campfire story" than a history lesson; it draws you into its impassioned madness while it simultaneously gives you the chills. Climbing legends Royal Robbins, Lynn Hill, Jim Bridwell, Ron Kauk, and Patagonia-founder Yvon Chouinard tell stories of each generation's allegedly "unbeatable" climb. Each climb does get one-upped though; leaving us to wonder what could possibly be next for bold newcomers like Alex Honnold.
Valley Uprising might be the greatest campfire story to ever come out of Yosemite's climber-packed Camp 4. And though recent park regulations have undermined the traditional climber lifestyle, one thing is certain: this tale isn't over.
If watching Honnold's free solo ascent of El Sendero Luminoso, Mexico, doesn't give you goosebumps, check your pulse:
The Sierra Club is a proud sponsor of Valley Uprising. The Reel Rock Film Tour is screening the documentary tonight at the Palace of Fine Arts in San Francisco. Visit the Reel Rock Tour's website to find a screening near you. 
Source: The Sierra Club