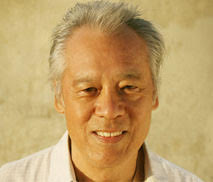 Home Base
Venice, California
Expertise
Visionary Filmmaker, Shamanic Artist
Quote
"The greatest adventure any of us can embark upon is to look within…"

Total Views: 17,752
Books
Fu-Ding Cheng
Fu-Ding Cheng––visionary filmmaker and shamanic artist–-began his career as a practicing architect, but has since focused his attention on writing, visual media, and spirituality. In 1990, he founded Liquid Light Productions, an organization devoted to exploring paths of self-illumination and mystical adventures through multiple artistic channels.
His multi-faceted career includes a prize-winning series of films, "Zen-Tales for the Urban Explorer" presented as a special retrospective at the Hammer Museum in Los Angeles, California; album covers (Heart's Dog and Butterfly); and a children's book, Dream-House. While teaching film directing at the North Carolina School of the Arts, he pioneered an innovative curriculum, "Shamanic Tools for the Filmmaker."
However, first priority over all vocational pursuits has been his life-long devotion to the spiritual quest, which led him to journeys East (meditation in the Himalayas, Chinese Kung-Fu), and to journeys West (spiritual-psychology, Meso-American shamanic practice). In 1995, after breakthrough experiences working with world-renowned shaman, don Miguel Ruiz (author of The Four Agreements), he woke up to a "reality beyond illusions"… and found a life filled with joy and peace.
Since then, through books, films, paintings, and seminars, Fu-Ding has been inspired to share practical pathways to personal freedom for everyone. His latest work is Map of Desire, a Blueprint for Self-Fulfillment; a groundbreaking approach devoted to spreading the deepest wisdom to the widest number of people.