Grow your own food and bask in the warm rays of the sun in your cozy greenhouse in the dead of winter.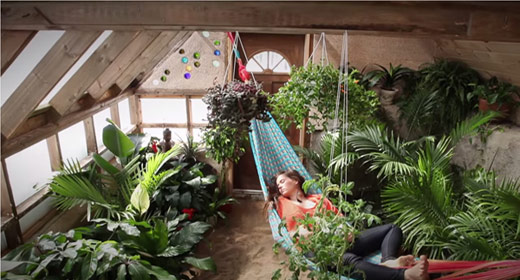 Photo credit: Greenhouse of the Future
Interested in building your own greenhouse, but don't know where to begin? Now, there's the Greenhouse of the Future. Filmmaker Curt Close teamed up with Anaconda Productions and the non-profit SolutionEra to release a DVD, eBook and step-by-step guide on how to build a passive solar greenhouse that utilizes renewable energy and is built from natural and recycled materials.

This is a great way to practice radical self-reliance and save money by growing your own food year-round without relying on unsustainable energy sources. It is also a great way to reconnect with nature and bask in the warm rays of the sun in your cozy greenhouse in the dead of winter.
Close believes that these greenhouses can create a more sustainable food system. "We do believe that if we combine this greenhouse with other technologies like compost heating, aquaponics and other intensive growing techniques, we could grow a major part of our food in a sustainable way even in the coldest countries," he said.
Close emphasizes that these technologies are sustainable and create self-sufficient communities. Their vision is to create SAFE technologies: "Sustainable Autonomy For Everyone so that each region, city, village or even family can be responsible for [its] own food, water and shelter" without being dependent on multinational corporations or fossil fuels.
This is not some new gimmick either. "The technologies and concepts that have inspired the design of this greenhouse have been proven by over 40 years of research and development by Michael Reynolds' "Earthship homes" as well as the many studies on passive solar greenhouses." These technologies and concepts include passive solar heating, thermal mass, passive geothermal, rainwater catchment and Earth tubes.
They even recommend installing a reading area, a hammock or a sunbathing area in your greenhouse to make your source of food also a source of peace and tranquility.
Source: Endo Riot