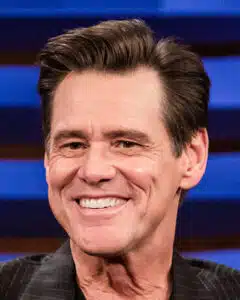 Home Base
Los Angeles, California, USA
Expertise
Actor, Comedian, Visionary
Quote
"Life opens up opportunities to you, and you either take them or you stay afraid of taking them."
Total Views: 22,423
Jim Carrey
Jim Carrey exploded onto movie screens around the world with his extreme facial expressions, impersonations, hyperactivity, clowning around routines, and his waxing and satirical improvisations of other famous Hollywood Actors. His fame as a comedic actor was cemented in Hollywood blockbuster movies, such as "The Mask," "Bruce Almighty," "Dumb & Dumber," "Batman," "Ace Ventura: Pet Detective," "Ace Ventura; When Nature Calls" and "Liar Liar."
He has also reinvented his onscreen persona to take on more profound and thought provoking roles in other successful Hollywood blockbuster films, such as "Man on the Moon," "Eternal Sunshine of the Spotless Mind," "The Majestic," and "The Truman Show."
Hero of the Sad and Hurting
The other side of Jim Carrey is a story of his family's personal financial struggles through his teenage years, living in a VW van and depending on the charity of relatives; his battles against depression; his unrelenting commitment and persistence for over 15 years to make it in Hollywood. He has reached the peak of success, being considered once as the highest paid actor for a movie in 1995. However, Jim says he never did acting or comedy for selfish reasons:
"The very real thrill in my life was not from personal recognition, but from knowing I could affect people in a much more positive way, while having fun doing it."
"Before I had money I used to write 'Have a nice day' on $20 bills and give it to people who really needed it in a hope it would cheer up their day, when they really needed it."
Hero of the Hungry
Today, Jim Carrey's energy and efforts are focused on continuing to help others. His A Better U Foundation, started in 2005, helps promote the solution to global food shortages and the stale economic activity in small villages as well as empower local farmers. His foundation helps those as far away as Haiti, Mali and Madagascar.