New geoglyphs that had never been seen before were found in the Nazca desert…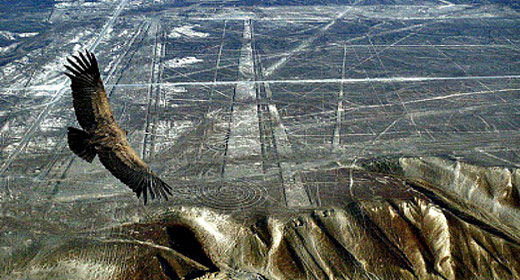 The discovery was made by pilot and researcher Eduardo Herrán Gómez de la Torre, who was flying over the hills of the El Ingenio Valley and Pampas de Jumana in the Nazca desert after a recent sandstorm uncovered them in July.
The largest geoglyph, which is about 200 feet (60 meters) long, seems to have a shape of a snake, while the others depict a bird, something that looks like a llama, and zig-zags.
Researchers believe that the newfound geoglyphs were created during the period between the Paracas and Nazca civilizations, which is still to be confirmed, writes the Peruvian newspaper El Comerico.
The so-called Nazca Lines, or the geoglyphs carved into the Peruvian desert, still remain a mystery. The original ones were discovered in 1935, and it was established that they had been carved between 2,000 and 1,500 years ago. The enigmatic lines cover a 450-kilometer-square area in the Peruvian desert and depict animals, fictional beings, plants, and geometric shapes. Researchers believe that the lines were created by removing the fragments of rocks coated with iron-oxide and revealing the lighter sand below, which emphasized their contrast to the rest of the area. There are also huge geoglyphs in Egypt, Malta, United States (Mississippi and California), Chile, Bolivia and in other countries.
Image: Aerial view of the original Nazca Lines
There are plenty of theories about their possible origin, but no one has managed to find out by whom and for what purpose they were built. Some versions suggest that the Nazca lines are a landing strip for alien visitors, others claim that they were a celestial calendar created by the ancient Nazca civilization and were used for rituals, which could also be confirmed by the fact that the lines were built between 200 BC and 600 AD.
However, it is still unclear which explanation is true.  To keep your mind open and learn about the alternative versionsof the origin and purpose of Nazca lines, we suggest watching the videos below.
"No where is the evidence so strong that a technologically advanced culture existed on Earth in our ancient past, and in many cases evidence here may point to possible extraterrestrial influences that have shaped human history. This is the amazing story of the ancient Nazca Lines of Peru. Best seen from the air, the pictograms and linier formations stretch for miles across and defy explanation as to who made them and the method from which they were made."
Source: Earth We Are One